Events for 4 February 2019
Day Navigation
All Day
In presenting the first Minimalism-focused exhibition in Southeast Asia across two leading cultural institutions, visitors can expect a wide range of historical and contemporary works, immersive and site-specific installations, as well as interdisciplinary programmes from artists such as Mark Rothko, Carmen Herrera, Tatsuo Miyajima, Donald Judd, Anish Kapoor, Mary Miss, Olafur Eliasson, Margaret Leng Tan,
Find out more »
Ongoing
A collaboration between Sun Yat Sen Nanyang Memorial Hall and the Memorial Museum of 1911 Revolution in Guangzhou, Between the Lines – The Chinese Cartoon Revolution examines the links between the 1911 Revolution in China and the emergence of Chinese cartoons in Singapore.
Find out more »
+ Export Events
Search by:
All | Workshops | Holiday Programmes | Exhibitions | Theatre | Nature | Outings
A fun and immersive parkour and flips experience for kids to discover themselves through movement! Kids will learn fundamentals of learning parkour and flips the principles of training safely.
The Yard specialises in providing Gymnastics, NinjaZone, Trampoline, Tumbling and Freestyle camps and programs for all age groups and ability levels. We strive to inspire fun, interactive and technique focused training environments. REGISTER NOW FOR OUR EARLY BIRD SPECIAL! NO REGISTRATION FEE!
Gallery Children's Biennale 2019: Embracing Wonder at National Gallery Singapore spreads the message of art as a way to discover and explore new worlds. This...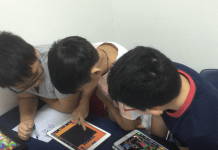 Looking for fun activities to do during the upcoming June school holidays? Choose from a host of exciting programs - popular Science programs, Robotics & Video-Game Creation workshops, there will be one that will suit the interests of your child!