From 28 January to 13 March 2022, enjoy curated experiences at the Japan National Tourism Organization's (JNTO) first-ever virtual event, Japan Fair 2022.
Japan's borders are still closed at the moment and many of us missing the opportunity to pay a visit to one of Singapore's favourite travel destinations. Nonetheless, we can still look forward to having a Japanese experience from home at the Japan Fair 2022, previously known as the Japan Travel Fair.
---
Virtual Experiences at the Japan Fair 2022
The Japan Fair 2022 will feature four different segments: virtual tours, Omiyage, local experiences and live streaming events.
Go on virtual tours of popular attractions in Japan such as Ritsurin Garden and Shurijo Castle Park.
Omiyage translates as "souvenir". Use the Japan Souvenir Map to find out where you can get the authentic Japanese products around Singapore.
Learn how to experience living like a local during a Japan trip and explore the Japan's countryside through first-hand private activities including craft workshops.
---
Live Event Segments in February 2022
There will also be a three-day live event segment that features live broadcast streams from various locations across Japan on to JNTO Singapore Office's official Facebook page. These live stream events will be held on 13, 19 and 26 February 2022.
The programme will showcase the Akita, Nagano, Ehime, Kochi, Kanagawa, Mie, Aomori, Ishikawa, Miyagi and Okinawa prefectures. Highlights include an oyster tour, snow town tour, sake brewery tour and a trip to the Ninja Museum.
There will also be opportunities to win travel vouchers valued at $1,000, Takashimaya vouchers worth $100 and more.
---
Unique Japanese Experiences to Enjoy from Home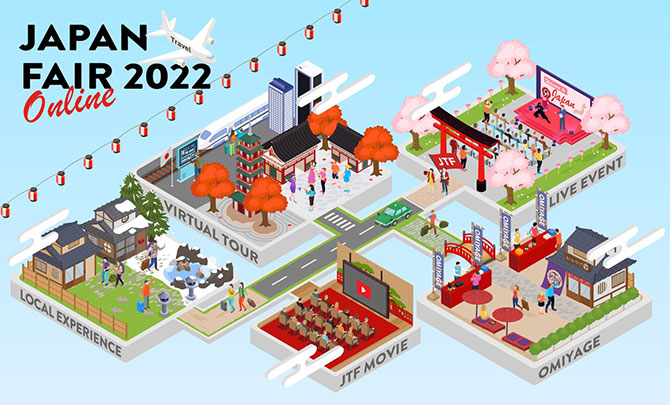 Hatsume Nagai, Executive Director for JNTO Singapore Office said, "The current pandemic has impacted international travel to Japan and has delayed business recovery for the local tourism sector. Through our online strategy, we hope to bring a fun and engaging virtual travel experience that promotes Japan's cultural diversity and travel offerings. We have specially curated the programme and activities to feature the best of Japan and to highlight the unique Japanese experiences that can be enjoyed by all from the comfort of their homes. Singapore remains a vital market for Japan tourism, and we hope to encourage travel to Japan in the future."
The Japan Fair 2022 will go live here.