Decked out in blue with nautical motifs, EagleWings Loft at King Albert Park Mall is a great example of a restaurant balancing casual dishes with sophisticated dining. It hopes to bring the experience of dining on a yacht to the people on the shores with its line-up of dishes, both well-loved and new. Here's what you can look forward to the next time you visit this restaurant.
Plates to Delight
We started with the Wild Mushroom Soup which is made with seven different types of mushrooms and served with a side of warm fluffy buttered toast. The variety of mushrooms not only enhanced the earthy flavours but also added texture to the creamy soup.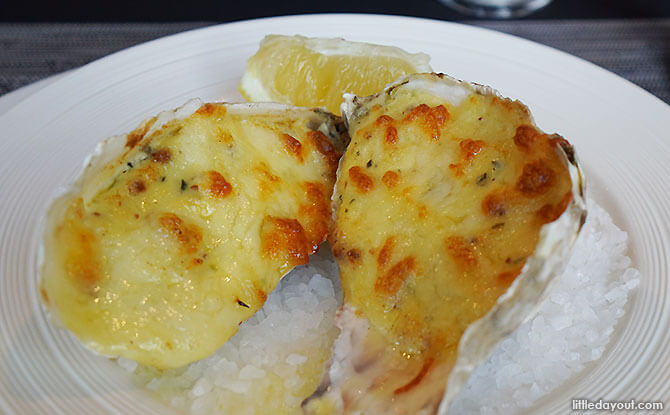 The oysters that followed were also delicious, baked in a generous case cheese, garlic and mayo.
After two rich and savoury dishes, we got a Jasmine Lemon Sorbet as a palate cleanser, which we really enjoyed! It was very refreshing and the tartness paired well with the fragrant jasmine.
The main course of Surf & Turf featured two of our favourites on one plate: lobster and wagyu beef. They were served with a side of vegetables, butter sauce and brown sauce. The generous portion of lobster was sweet and the high-grade beef was well-torched with a high-heat flame for 30 seconds to bring out the flavour.
Dessert, Valrhona Brownie with Homemade Vanilla Gelato, ensured that the meal ended on a sweet note. Although the origins of a brownie was a supposed mistake, there were absolutely no mistakes with this warm and soft brownie – it was a delight. And after having sampled so many other ice creams recently, we appreciated that the homemade vanilla gelato was not too sweet either.
Dessert lovers can also look out for a new addition to the menu at Eagles Wings Loft, Molten Treasure. The decadent chocolate lava cake comes with a light dusting of icing sugar and thoughtful presentation.
More on the EaglesWings Loft Menu
EaglesWings Loft is a place that aims to have dishes for everyone.
Other dishes we tried at EaglesWings Loft included the Singapore Fish Soup, Indonesian Fried Rice, Signature Aglio Olio and its new Wagyu Mushroom Risotto.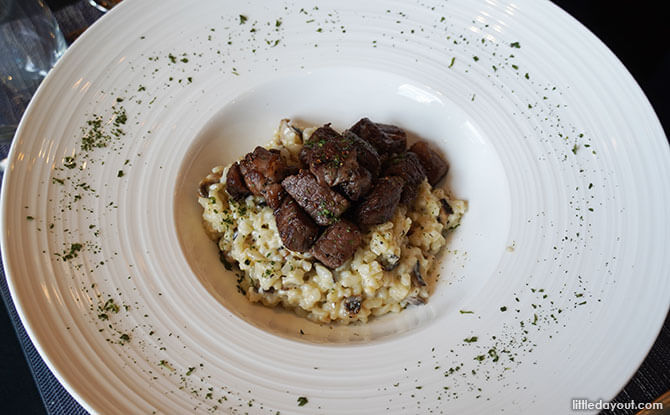 To us, the one that stood out the most was the risotto as it was not too heavy, even with the flavourful wagyu beef on top.
The Singapore Fish Soup also deserves a mention for the umami broth which is made over four hours.
EagleWings Loft
Where: 01-14/33/34/56/57 KAP Mall, 9 King Albert Park, Singapore 598332
Media Invite