If you enjoy hunting for unique ice cream flavours, put Kindred Folk at kap (aka King Albert Park) on your radar.
Facing the junction of Clementi Road and Bukit Timah Road, this ice cream shop-café serves up some unique ice cream flavours, made in-house on the premises, and more.
Quirky and Fun
Kindred Folk has a fun vibe.
On the first floor is where you place your orders while the big-windowed second floor has seating and space to hang out.
---
-- Story continues below --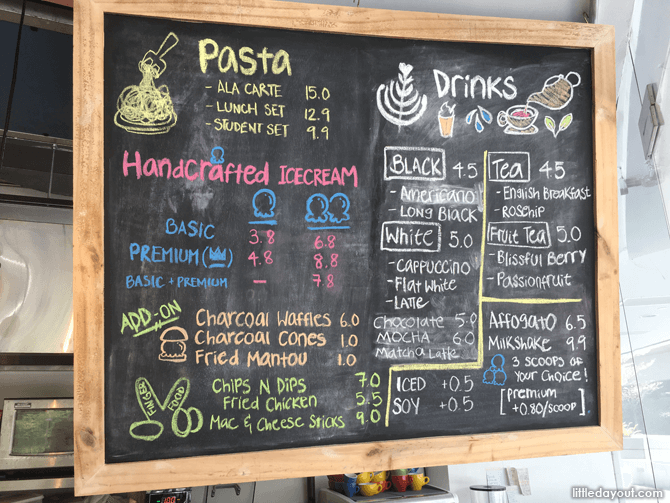 Its food menu consists of pasta and finger foods.
Pasta dishes come with quirky names like Mi-So Sexy (mi-so sesame capellini with sautéed mushrooms and onsen egg) and Tomayto-Tomato (fettuccine with homemade crushed tomato sauce and topped with chorizo). These cost between $9.90 to $15 depending on whether you qualify for student pricing (Ngee Ann Polytechnic is just down the street), are having a lunch set or a la carte
Finger foods include Fried Chicken Drumlets ($5.50) and Mac n' Cheese Sticks ($9).
Wasabi Ice Cream, Anyone?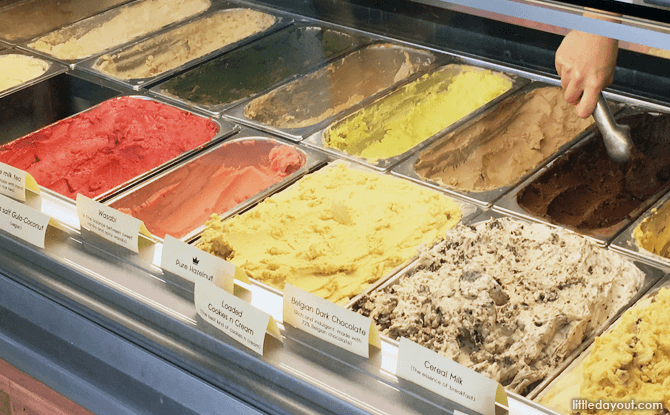 However, what caught our eye were the ice cream flavours hiding behind the glass counter at Kindred Folks.
Besides crowd-pleasers like Belgian Dark Chocolate (made with 72% Belgian chocolate), Nutty Nutella and Loaded Cookies n' Cream, more unique flavours at Kindred Folk include Banana Crumble and Grapefruit Froyo.
According to Kindred Folk, the best sellers are the intriguingly-textured Cereal Milk and Roasted Rice Milk Tea (made with hand roasted brown rice tea).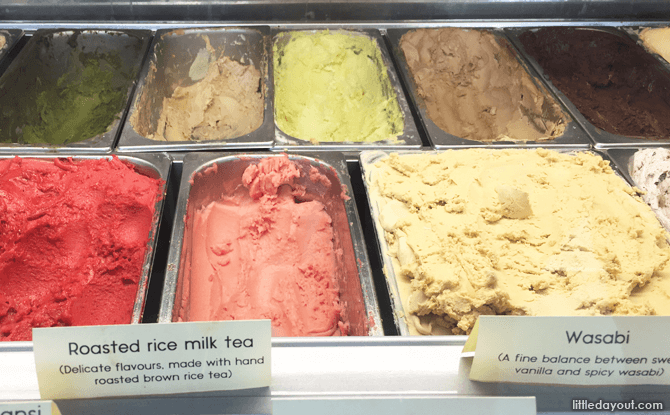 And there is Wasabi ice cream too.
This green ice cream brings together the flavour profiles of sweet vanilla and spicy wasabi. While it may sound like an odd combination to some, the Wasabi ice cream was inspired by the owner's travels in Japan, where it exists.
Basic flavours cost $3.70 for a single and $6.50 for a double. Premium flavours cost $4.70 for a single and $8.50 for a double. A combination of Basic and Premium flavours in a double will cost you $7.50.
Kindred Folk also has add-ons such as Fried Mantous ($1) and Charcoal Waffles ($6) available to pair with your ice cream.
There is enough choice here to keep everyone, kids and adults, happy. Even dogs are welcomed (but have to stay at the outdoor seating area).
So, the next time you are thinking of trying something new around the Bukit Timah area, consider stopping by Kindred Folk at kap for a taste of quirky and fun proportions.
Kindred Folk
Address: 9 King Albert Park #01-09, Singapore 598332