This holiday season is here and Changi Airport's Changi Festive Village is back from 4 November 2023 with a whimsical Candy Wonderland, games and rides at the Candy Carnival, a winter experience at the Candy Snow House and more.
---
Changi Airport's Changi Festive Village 2023
Candy Wonderland
Occupying the prime spot in front of Changi Airport Terminal 3 Departure Gates is the Candy Wonderland.
Looking like it could have popped straight out of the Hansel and Gretel fairytale, Changi's Candy Wonderland features a five-metre-tall teddy bear and a captivating seven-metre-tall, two-storey-high rotating Ferris wheel.
The teddy bear is decked out for the winter season with a nice jumper and warm looking scarf around the neck. Teddy is also into the sweet confections too as he has a icing-topped cupcake in his right hand.
---
-- Story continues below --
Even if you aren't flying out of Singapore for the year-end holidays, it is delicious-looking photo spot where you can snap sweet memories of the holidays.
The Candy Wonderland is also the site of the Snow Show. This light and sound show will be entertaining the crowds at the following times:
Monday to Thursday – 7.30 pm and 8.30 pm
Friday to Sunday – 7.30 pm, 8.30 pm and 9.30 pm
The Candy Wonderland display at Terminal 3 will be around till 1 January 2024.
---
Candy Carnival
Head to Level 1 and Basement 2 where the candy-themed fun continues.
Enjoy different booths with a variety types of games and amusements at the Candy Carnival at Changi Airport Terminal 3.
Test your aim at the virtual reality shooting game or try your skill and luck at the giant claw machine and you may be going home with a humongous plushie.
Amongst the rides at Changi Airport's Candy Carnival are familiar ones like the carousel and an indoor pirate ship.
There is a Candy Bouncy Castle with free play for Changi Rewards members. This is open for participants who are at least 4 years old and between 90 cm to 140 cm in height. Non-slip socks are required. Do take note that terms and conditions apply.
For the other carnival games and rides, you can purchase Carnival Tokens. The prices for the Carnival Tokens are:
Purchase S$20 worth of tokens and get 21 tokens
Purchase S$50 worth of tokens and get 55 tokens
Purchase S$100 worth of tokens and get 120 tokens
Carnival tokens can be purchased here or by using the Changi App.
Weekday Special at the Candy Carnival till 28 December 2023
As of 4 December 2023, there is a weekday special till 28 December where the first 200 customers daily will be able to enjoy unlimited rides for 1 hour with just nine tokens! This is for Mondays to Thursdays, excluding eve of and Public Holidays. More details can be found here.
If you get hungry, you don't need to exit the carnival atmosphere as there is a row of "food trucks" where you can fuel up before hitting the rides again. Choose from classic carnival type food like corndogs or pick up a tray of takoyaki that you can easily take around with you.
For something more filling, the food truck stalls at Changi Airport Candy Carnival also include proper dishes like rosti, quesadillas and lamb mandi rice.
---
Candy Kart
One of the highlights of the Candy Carnival can be found at Level 1 of Terminal 3. Here, you can take a sweet ride at the candy-themed go kart. With colourful decor at the track, you can zip around and enjoy sweet sensations.
We are happy to note that the Candy Kart is open to young riders. To participate in Candy Kart, riders need to be at least 5 years old and at least 1.1 metre tall. Riders need to be wearing covered shoes – so be sure to dress appropriately if you are looking to have a round in the go-karts.
It costs six carnival tokens to have a go on the Candy Kart.
The Candy Carnival can be found at Changi Airport Terminal 3's Arrival Hall and Basement 2. It will be running all the way till 31 March 2023. It is open from 11 am to 10 pm.
---
Candy Snow House
Chill out at the frosty Candy Snow House at Terminal 3 Level 1, just outside the McDonalds at the Coach Bay Area.
Set up by Snow City, Candy Snow House is a snowy paradise with ice sculptures and fun experiences like ice luges and slides. With a temperature of -10 degrees, it is a place where you will feel transported away from sunny Singapore and into the cold of winter.
In the dark zone, marvel and capture fairy tale pictures of the Majestic Ice Carriage and Candy Ice Sculptures.
Over at the Sports & Playground Zone, you can play a game of Mini Golf, Bowling, or Basketball in the snow.
Have fun with a friend at the two lighted seesaws at the Snow Playground area.
Then grab a tyre and race down the three-lane, five-metre-long snow slide to the awaiting, glistening snow at the end of the slide. There is also a mini ice luge for kids to glide down the ice.
The entry price for the Candy Snow House is $18 for a direct purchase or 20 Carnival Credits for one hour of play time.
Participants need to wear long pants and socks. You can also rent gloves for $3.50 a pair and waterproof pants for $4.50 a pair.
We would recommend the waterproof pants if you don't wish to walk out of the Candy Snow House with a wet bum.
The Candy Snow House will be operating all the way till 31 March 2024 and it is open from 12 pm to 10 pm daily during the year-end school holidays.
From 2 January 2024, Candy Snow House will only be open on weekends, school holidays and public holidays.
---
Roving Performances
Enjoy the festive atmosphere created by roving performers around Terminal 3.
Dino Mascot
Look out for the Dino Mascot on Fridays to Sundays and Public Holiday till 25 Dec 2023 at the following times:
Candy Wonderland (4 pm to 4.30 pm and 5 pm to 5.30 pm)
Candy Carnival (6.30 pm to 7 pm and 7.30 pm to 8 pm)
Marching Band
There will also be a Marching Band on the first weekend of November and every Saturday till 25 Dec 2023 at Candy Wonderland. The Marching Band will be performing at 7.30 pm to 8 pm and 8.30 pm to 9 pm).
Santa Appearance
What's the festive season without Santa? Catch the jolly old man on Fridays to Sundays and Public Holiday from 15 Dec 2023 to 25 Dec 2023 at:
Candy Carnival (5.30 pm to 6.30 pm)
Candy Wonderland (7.45 pm to 8.45 pm)
Other performers around the Changi Festive Village include:
Lighted Fairy Stilt Walkers, Jugglers and Buskers
Lighted Fairy Stilt Walkers every Saturday from 15 Nov 2023 at
Candy Carnival (4 pm to 5 pm)
Candy Wonderland (6 pm to 7pm)
There will be jugglers and buskers every Friday from 24 Nov 2023 at Candy Wonderland from 6 pm to 7 pm.
---
Other Experiences at Changi Airport for the School Holidays
Other experience that will be taking place at Changi Airport over the school holidays include "A Candylicious Night at the Airport" at Changi Experience Studio in Jewel Changi Airport and chocolate art jamming workshop for kids where they will use vibrant colours to paint their very first edible art of the airport.
Look out for themed pop-ups at Terminals 2 and 3. Choose from BT21 to Craftholic and Mofmo Friends, Mickey Loves SG to Miffy, and more.
Spend a minimum of $50 or $100 at Changi Airport, Jewel or iShopChangi to purchase Changi Candy premiums from $7.90.
There are five to collect – the Packing Cube, Travel Bag, Teddy Bear, Sling Bag and Luggage.
Also enjoy sweet savings of up to S$40 off in return vouchers. Use Changi Pay to get one additional S$5 return e-voucher. Changi Rewards members can redeem a complimentary Luggage and Travel Bag with a nett spend of S$1,800 (S$1,500 for Gold and Platinum members).
Get more details about Changi Festive Village and Candy Wonderland.
---
More to Do at Changi Airport
If you enjoyed this story, you may also enjoy this one about the reopened Terminal 2. You can you get even more exciting ideas for the year-end school holidays in Singapore.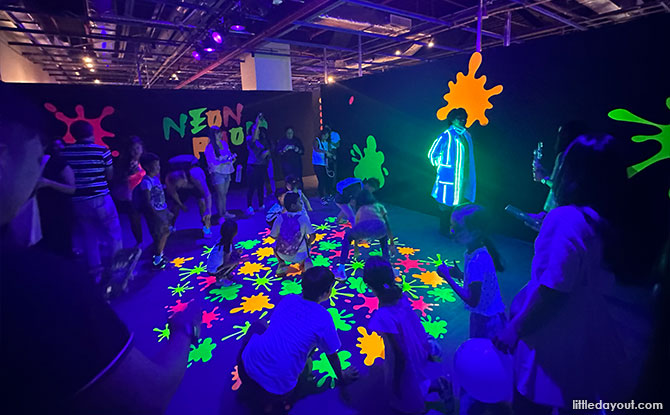 While at Changi Airport with kids, you may also be interested in checking out Chaos Lab at Terminal 2. Read our review of Chaos Lab Singapore.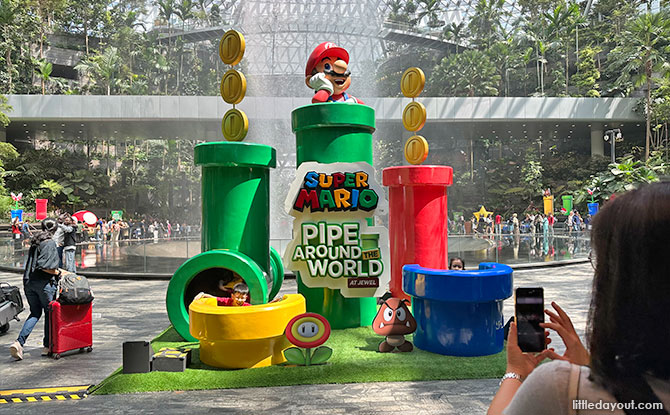 You may also be interested to pop over to Jewel Changi Airport where Pipe Around the World at Jewel is taking place during the year-end holidays.