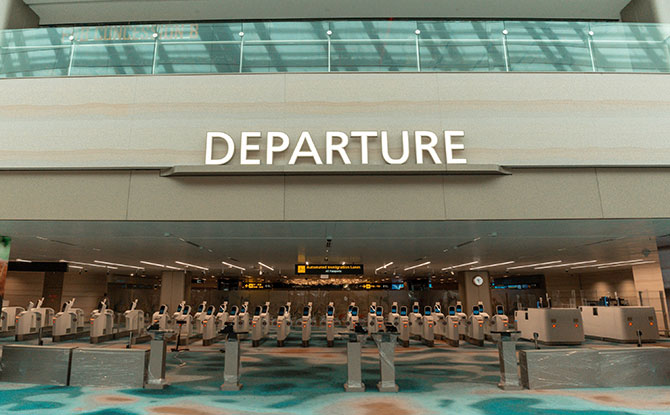 The southern wing of Changi Airport Terminal 2 will open for departure operations 11 October 2022 with Singapore Airlines being the first airline to make use of the new check-in rows at T2.
---
Flights Departing at Changi Airport Terminal 2 Southern Wing
The first flights that will be depart from the reopened Changi Airport Terminal 2 will be Singapore Airlines flights to Malaysia and Thailand. Other Singapore Airlines flights departing to other Southeast Asian countries will fly out from Terminal 2 from 13 October 2022 onwards.
Singapore Airlines flights arriving at Changi Airport will continue to make use of either Terminals 1, 2 or 3.
Two other airlines, Air India and Air India Express will move to Terminal 2 on 18 October 2022. Additional airlines making use of Terminal 2 will be announced at a later stage.
---
-- Story continues below --
Design Elements of Refreshed Terminal 2
The refreshed Terminal 2 now features a contemporary design inspired by elements of nature. These include the use of natural materials for the walls and flooring with giant green column that feature plants.
There are also automated check-in kiosks along with baggage check-in counters for luggage to be dropped off afterwards.
The southern wing of Terminal 2 will also feature various F&B and retail outlets. Some shops, such as Starbucks and SingPost, will also be returning to their previous locations.
The upgrading of the northern wing of Terminal 2 is only expected to be completed in 2024.
---
Preparing for the Year-end Holiday Peak
The reopening of Changi Airport Terminal 2 is in anticipation of increased travel demand in the lead up to the year-end peak travel season.
Mr Tan Lye Teck, CAG's Executive Vice President of Airport Management, said, "With a refreshed design, upgraded systems and a high degree of automation across the passenger journey, T2 will enable Changi to serve our passengers better as we prepare for a busier year-end holiday peak. CAG will work closely with our airline and airport partners to welcome more passengers at T2."