Brez'n is an authentic Bavarian restaurant located at Valley Point, a small mall on River Valley Road. A draw of the mall is that it is not too crowded and parking was relatively easy. We had just walked past the restaurant when my young daughter excitedly asked if we could eat there having caught sight of the kids play wall.
Fortunately, we already had reservations!
Family-friendly Corner at Brez'n
Brez'n is spacious and well-appointed. To my daughter and son's delight, we were seated in the kid-friendly corner with the wooden play wall.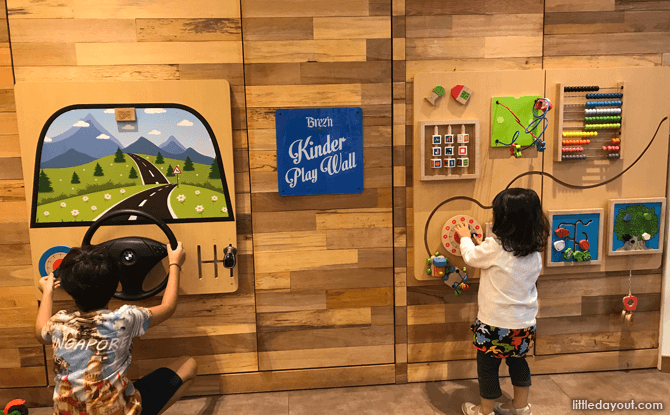 The wooden play wall itself looks very inviting to youngsters – some of the activity boards were mounted high enough so that older children could enjoy it. The lower hung toys would probably be reachable by tots from two upwards.
Finally, after we managed to pry our two children from the play wall, the staff were kind enough to provide some coloring pencils and activity sheets whilst the adults ordered.
We ordered items off the special Grillfest summer menu and the special weekend-only schnitzel menu. Service was good and attentive.
Tucking in at Brez'n
The food overall was excellent and expertly prepared. We ordered three main dishes, shared a soft pretzel and had rum-raisined caramel pancakes for dessert.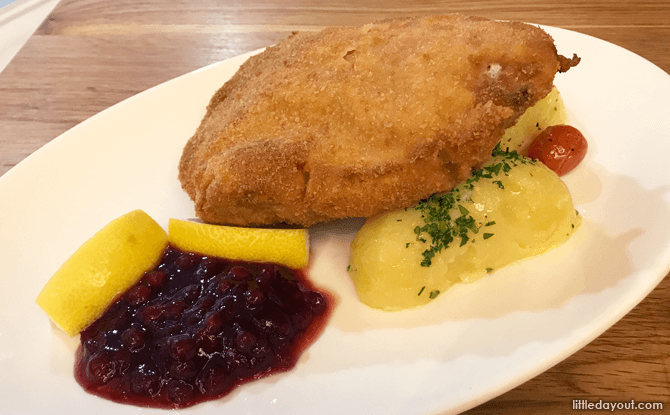 The first main was a Holzfaller Cordon Bleu Schnitzel ($28) that the waiter recommended from the special schnitzel menu.
Schnitzel is Austrian in origin and traditional schnitzel is a thin slice of veal with a thin layer of crispy breading, eaten with lemon squeezed over it.
The Holzfaller Corden Bleu Schnitzel recommended to us at Brez'n was done slightly differently. The usually thin slice of veal was folded over and stuffed with cheese, spinach and mushrooms.
Compared to traditional versions of schnitzel, it was a lot more savory and full-flavoured.
It comes with cranberry sauce. This served as a tart complement to the creaminess of the cheese filling. The veal was also perfectly done and juicy. The accompanying buttered potatoes were also excellent. An excellent start to the meal.
Do take note that the special Schnitzel menu is only available on the weekends and Public Holidays. On other days, you can still try the traditional recipe classic Wiener Schnitzel ($32) from the regular menu.
Grillfest Galore
It being "summer", Brez'n has created a new menu based around grilled meats.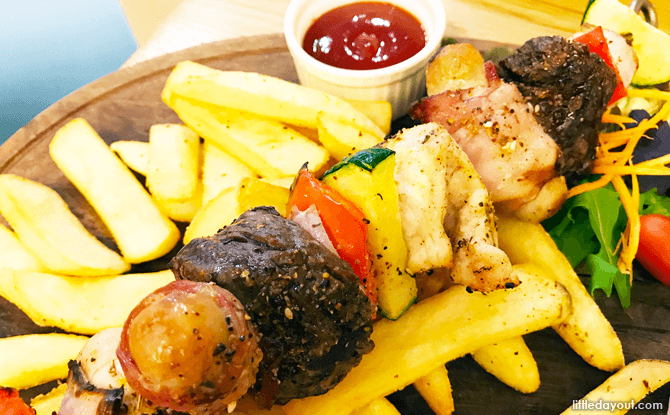 The first we tried was the Shaslik Skewer with beef tenderloin, chicken breast and bacon wrapped sausage ($34). The star was the tenderloin, done just medium so it is moist and beefy. The chicken breast was still juicy and was seasoned with salt and pepper. The sausage with bacon rounded out the trio and provided the salty conclusion. The side of fries was a great hit with the kids.
The second item we had from the special menu was the crispy fried Sea Bass with potato medallions.
The restaurant took the initiative to put the lemon butter sauce on the side since the children might find the taste too strong. Nice attention to detail.
Again, the culinary excellence in execution showed. The fish was only lightly battered, crisp on the outside and moist on the inside.
Lastly we had the rum-raisined caramel pancakes done in a cast iron pan.
This is a simple dessert and the pancakes went very well with the accompanying cherry sauce. The pancake pieces were tasty and fluffy, an immediate hit with the wife and daughter.
Regular Menu at Brez'n
Beyond the special GrillFest and Schnitzel menus, Brez'n's regular menu is a delight for German food lovers.
Brez'n, which means pretzel in German, serves unique items such as a pretzel sandwich with grilled honey glazed leg ham with Camembert and Emmental cheese in a soft pretzel ($16) and a Bavarian meat loaf sandwich ($14).
A sausage platter for two, served in a skillet, costs $34.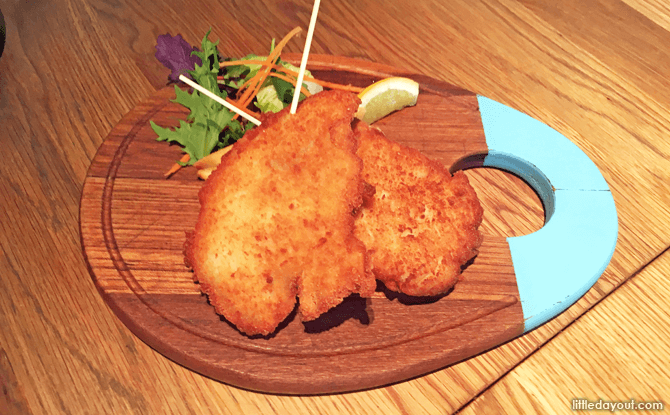 Kids up to 12 years old have a special Kindermenu. Options include breaded chicken schnitzel on a stick ($8), Mini Bratwursts ($8) and German egg pasta in creamy cheese sauce ($8).
Of course, being a Bavarian restaurant, beer is also available with larger, dark larger and wheat beer on tap.
Prost
Overall we had a great time at Brez'n, kids and adult alike.
If you are looking for a hearty Bavarian feast, Brez'n is definitely a place you should consider. Best of all, children are welcomed too!
Brez'n
Address: 491 River Valley Road, Valley Point, #01-21/22/23, Singapore 248371
Opening Hours: Monday to Thursday: 11.30am to 11.00pm; Friday: 11.30am to midnight; Saturday & Sunday: 10.00am to 11.00pm; Public Holiday Eve: Open till midnight
Website
Media invite by Brez'n.