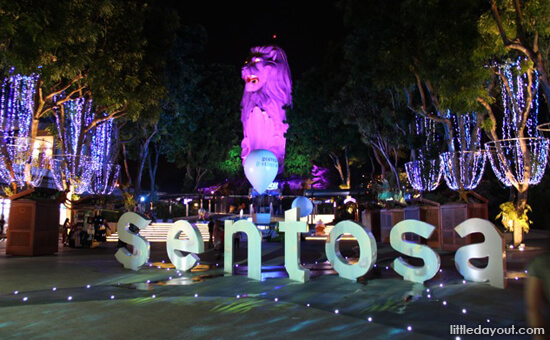 An enjoyable day out does not equate to spending money. In fact, the adage that the "best things in life are free" still holds true. Time is most meaningful when spent together with loved ones.
Little Day Out discovered how it is possible to have a memorable evening in Sentosa, an otherwise expensive and touristy location, for under ten Singapore dollars. Here's how we did it.
Act One: Getting There
After dinner at VivoCity, it is time to walk off the meal. Head over to the Sentosa Boardwalk where travellators can take you across to Sentosa without breaking a sweat. Along the Boardwalk, you can stop to take in views of the setting sun and silhouetted cable cars as they cross the waters between Sentosa and HarbourFront.
Once at Sentosa, entry into the island is $1 per person and this can be paid in coins or with an EZ link card.
Total Spent for 4 Persons: $4
Act Two: Just Desserts
Entering Sentosa via the Boardwalk leads to Resorts World Sentosa's Waterfront. A short walk away is the spinning Universal Studios globe. In the evening, it looked, shrouded in mist, pretty epic. A quick browse through the Hershey's World and Candylicious stores is usually in order too.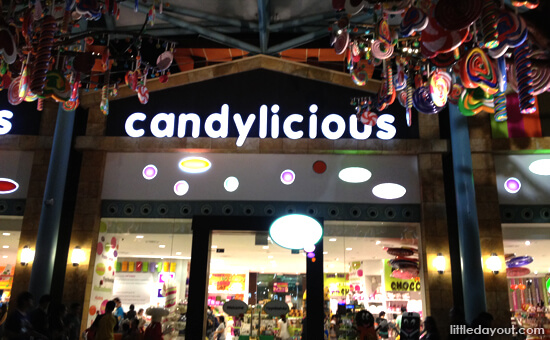 For dessert, nothing fancy was required. Instead, McDonald's was the order of the day. A quick walk to the far end of the basement had the kids sprinting once they saw the Golden Arches. Four ice-cream cones later, everyone's cravings were satisfied. Best of all, the water show beside McDonald's came on at that time too.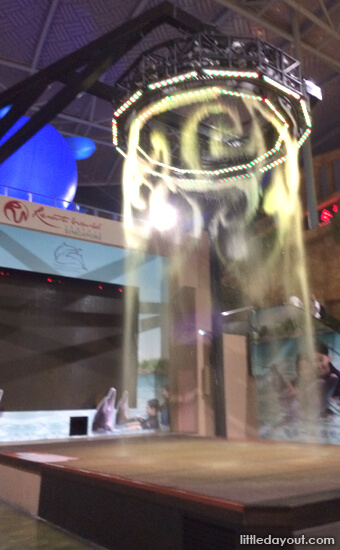 Total Spent for 4 Persons: $5.60
Act Three: A Walk and a Little Flight
The escalator beside the Casino was filled with blooming flowers and swelling music, creating a nice segue to The Galleria. Crossing the overhead bridge at Hotel Michael opened up into the Merlion Plaza. By now, the Merlion was closed, but the Merlion Walk behind the half-lion, half-fish was still enchanting with its magical fairy lights and dancing fountains. The cool of the evening made for a pleasant walk toward the beach.
Once at the beach, our next stop was iFly Singapore, Sentosa. Stepping inside, we were entertained by the acrobatics of indoor skydivers pirouetting around the air chamber. Amazing stuff!
Act Four: A Dance Goodnight
From iFly Singapore, Sentosa, it was a short walk to the Beach Station where we hopped onboard the Sentosa Express. Two short stops later, we were back at Resorts World Sentosa by 9 pm to watch the Crane Dance.
There you have it – a little night out at Sentosa on a budget, but with no cap on the amount of fun you can have.
Read also about the Trick Eye Museum (opened on 8 June 2014) at Resorts World Sentosa.