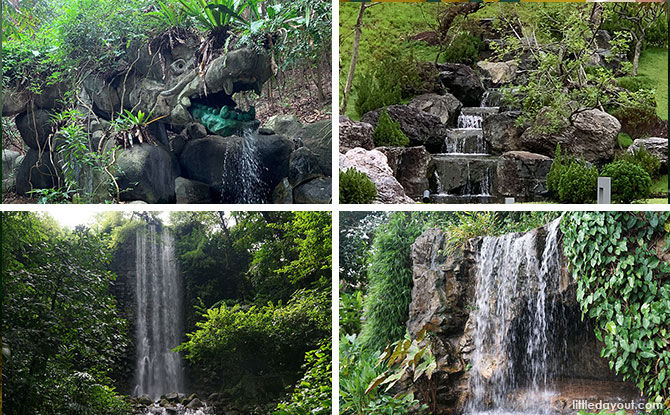 What Singapore lacks for in natural waterfalls, we make up with manmade waterfalls. In fact, there are quite a number of waterfalls in Singapore. Here are some of the most photogenic ones that you can visit.
---
Pretty Waterfalls in Singapore
Ginger Falls
Located in the middle of Singapore Botanic Gardens, close to the Ginger Garden, is Ginger Falls. One key feature of this waterfall in Singapore is that you can venture into a cave behind it to experience the waterfall from a different perspective.
---
Dragon Falls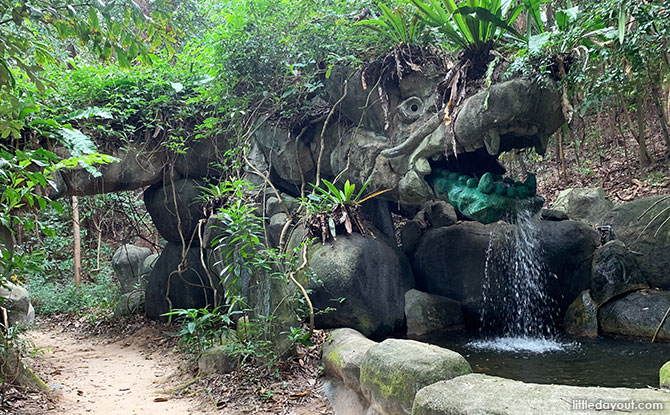 Take to the trails at Mount Imbiah and seek out three different waterfalls. In addition to the Imbiah Falls and Tempinis Falls (which you can climb up next to), there is also a mysterious looking waterfall where the water comes out of a stone dragon's mouth.
---
Cloud Forest Waterfall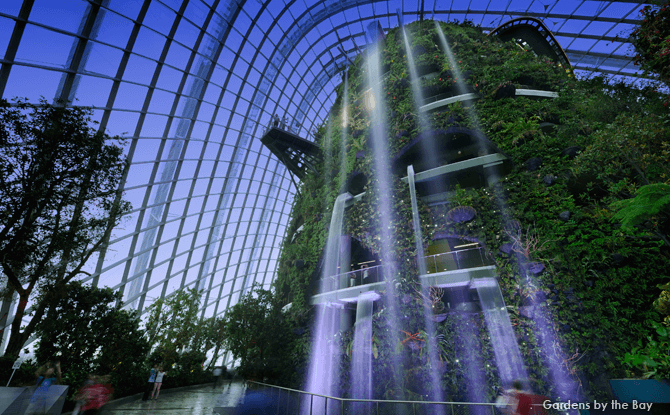 Everyone pauses to take a picture at the waterfall at Cloud Forest, Gardens by the Bay. It is worth getting slightly soaked by the spray while you get that perfect picture! Ascend the Cloud Forest to get another view of the waterfall from a platform up the "mountain"
---
Serene Garden Waterfall
Serene Garden is a less well-known outdoor space at Gardens by the Bay. This hidden space is also home to a beautiful, cascading waterfall. Read more about Serene Garden.
---
Rain Oculus at Marina Bay Sands
This is one of the most dramatic waterfalls that you can find in Singapore. The Rain Oculus at Marina Bay Sands' Shoppes makes use of rainwater and it swirls down a giant bowl to the canal below. This "show" takes place at fixed times throughout the day. You can view it from above or inside the shopping mall below.
---
Yunnan Garden Waterfall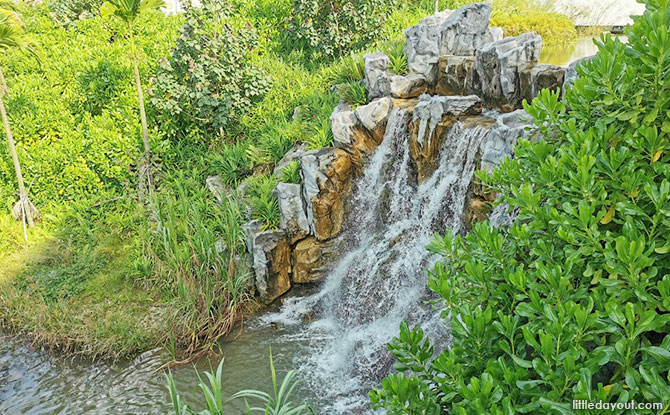 The revamped Yunnan Garden at Nanyang Technological University not only has nice landscaped gardens with traditional looking pavilions but a waterfall that looks as it has been inspired by a Chinese landscape painting. Nice!
---
Jurong Bird Park Waterfall
Jurong Bird Park's Waterfall Aviary is home to the OG manmade waterfall in Singapore. It is the equivalent of 13 storeys tall. The Jurong Bird Park waterfall is best viewed from the aviary's suspended bridge or you can also climb the stairs to a hut to a view from the side.
---
HSBC Rain Vortex
If there is one waterfall in Singapore that everyone knows about, it is the HSBC Rain Vortex at Jewel Changi Airport. Internationally famous, it is spectacular both day and night and holds the title of the world's tallest indoor waterfall.