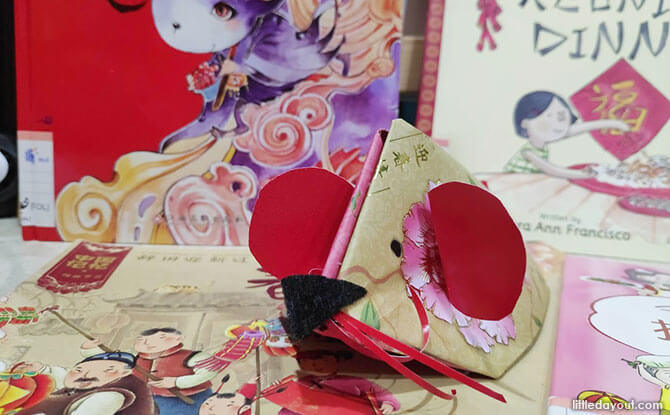 Dong dong chang! Right on the heels of Christmas is another important season for the Chinese – the Lunar New Year, of course. Remembering our traditions is a way of continuing the heritage and getting the young more in tune with the meaning of important festivities; there are many different Chinese New Year activities with children that can allow them to get involved.
While each family celebrates Lunar New Year in different ways according to their dialect groups or ancestral practice, there are still many elements that we share. The reunion meals, yusheng, festive goodies, décor are all elements of Chinese New Year we can't miss out.
It's always fun and enriching to prepare Chinese New Year home learning activities so the children are all ready for the actual celebrations. This gives them more depth in knowledge and understanding the purpose behind each tradition would get them more familiar with their own heritage.
Let's begin!
---
-- Story continues below --
Chinese New Year Activities for Children
Spring-cleaning like Marie Kondo
Definitely on everyone's to-do list whether it be for decluttering, welcoming the new or looking presentable before visitors come – Spring-cleaning is something all can help in. Spring-cleaning consists of getting rid of items that serve no purpose, gathering books and toys that are no longer age-appropriate, clothes that don't fit, excess stationery or kitchen equipment that have been in storage for years. You can either give them away to those in need or pass it on to friends or relatives with younger children. Involve your children so they can learn to clean up like Marie Kondo instead of hoarding.
Reading books on Chinese New Year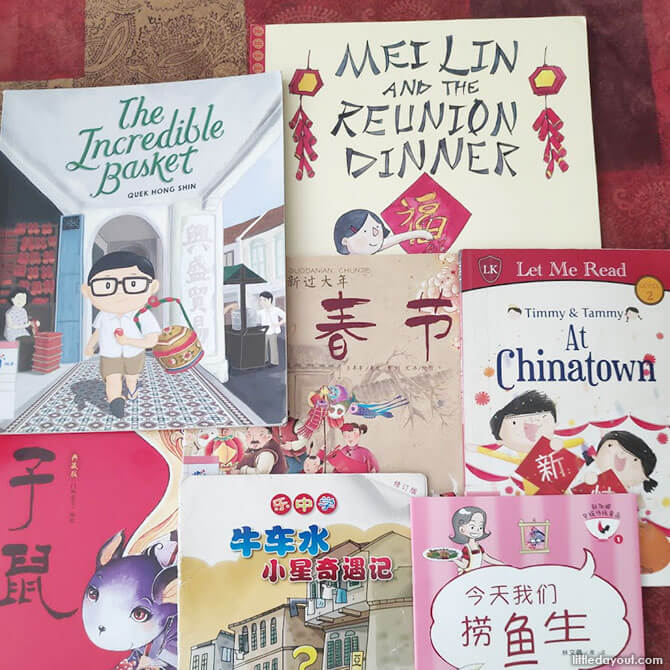 Head to our public libraries for a great selection on books on Chinese New Year. It's a calm refuge without all the Chinese New Year songs blasting so you can look for the books in peace. The local section particularly has books with a local context.
Here are some of our favourites:
The Incredible Basket by Quek Hong Shin, QUE, J Singlit section
Timmy & Tammy At Chinatown by Ruth Wan-Lau, WAN, J Singlit section
Mei Lin and the Reunion Dinner by Debra Ann Franciso, FRA, J Singlit section
Jin Tian Wo Men Lau Yu Sheng (with Hanyu Pinyin), LWP, J Singlit section
Books are a great way to teach the children about customs through stories and visuals. Aside from the natural enthusiasm for collecting red packets, kids would be thrilled about the annual celebrations with loved ones. They can even regale the older folks during reunion dinner by talking about Chinese New Year myths, legends, origins of various traditions and meanings of each delicacy.
Visiting Chinese New Year Markets in the Neighbourhood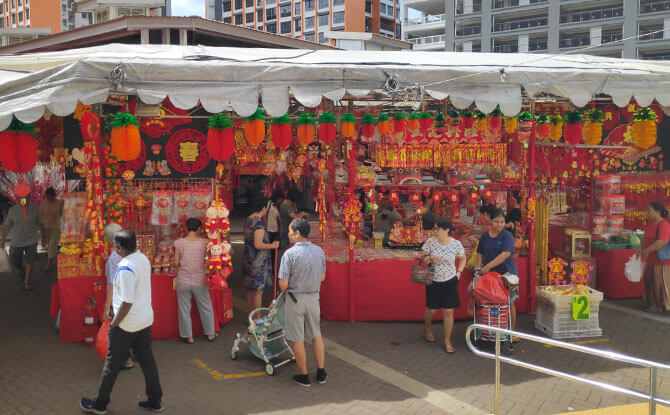 You don't have to head all the way to Chinatown to soak in the atmosphere, heartlands would be buzzing with a sea of red with their festive markets where you can get almost everything Chinatown Chinese New Year markets have, sometimes at a lower price. From plants, couplets, decorations, Chinese New Year goodies, new clothes, the markets in your neighbourhood have them all. The convenience also means it's much easier bringing your kids around for some festive shopping.
Baking CNY Goodies
Apart from buying Chinese New Year goodies, how about baking your own pineapple tarts, kueh bangkit, cookies with an extra flavour of love for gifting? Cornflake cookies are an easy one to involve the little ones as well. Otherwise, other child-friendly recipes include cashew nut cookies, Osmanthus jelly and vegetarian-friendly seaweed crackers.
Buying CNY décor or DIY décor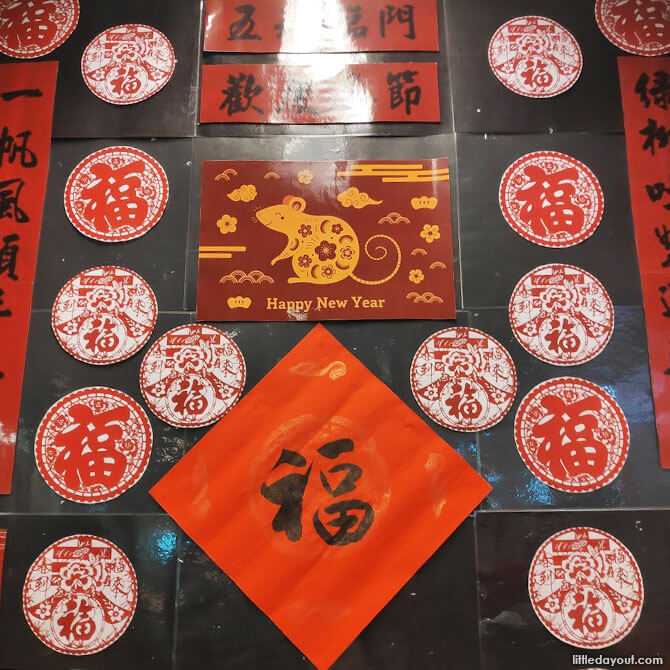 Time to put away the Christmas tree to make way for a Kumquat plant to usher in prosperity! Traditionally, Chinese New Year decorations are meant to be symbols of good luck and blessings for the year. Red is of course the preferred colour, but there are many variations and classy designs available at markets, even supermarkets and departmental stores. Putting up couplets, Chinese new Year banners might even help the kids learn new Chinese words. #Protip Get your child to select one or two banners for Grandma and for your own home, this will give them a sense of ownership and make Grandma extremely pleased.
If you'd rather recycle used red packets and make your own decorations, there are very easy ones to make. Involve the kids who would be amazed at how the red packets can be transformed into fish, lanterns and even the zodiac animal for the year. For the year of the rat, we have video tutorials ready for you!
Deciding on the CNY Menu for the Reunion meals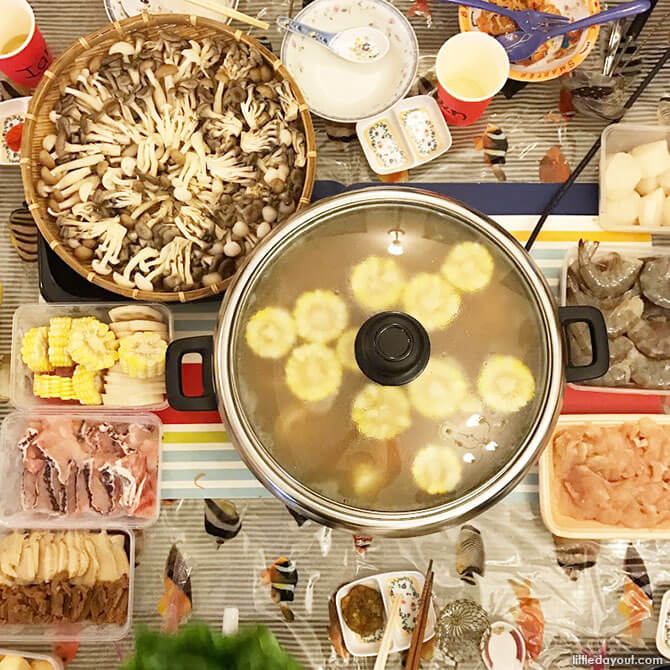 When chatting with your children about Chinese New Year, ask them about their favourite dishes. Talk about what those dishes mean help foster deeper meaning in the enjoyment of the dish. The kids' favourite ingredients of the yusheng are the salmon and the golden crackers which mean abundance and wealth. They can even help to prepare the ingredients for yusheng and lend an able hand when slicing the vegetables or mixing the condiments.
The Family that Celebrates Together Stays Close Together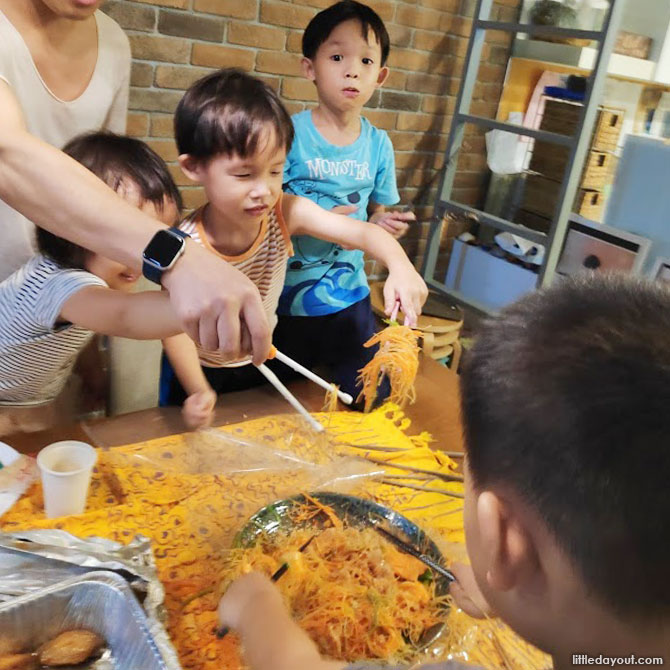 Festivities are not just about good symbols and prospering. Preparing for Chinese New Year as a family can be meaningful, engaging and great for bonding. We hope our tips will help in the preparation time which can be otherwise dreary or exhausting. Wishing you a fun time together and creating tighter bonds with fonder memories over the Lunar New Year!