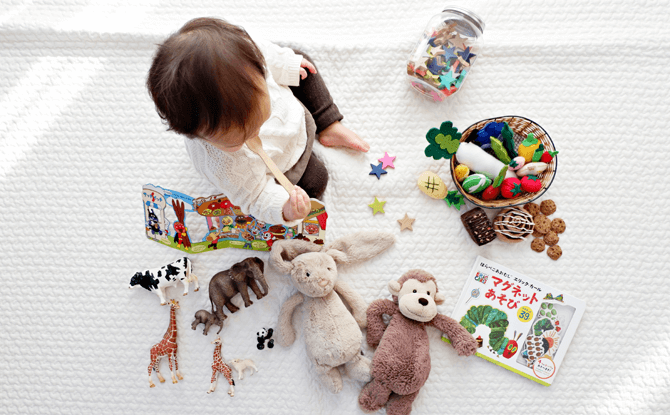 If your home is running out of space, and the kids' toys are piling up – it's time for spring-cleaning. But where can parents donate preloved toys in Singapore?
Instead of throwing these things away, give them a new lease of life by giving them away to less fortunate children.
Recycling toys this way will bring joy to a child somewhere in Singapore – and beyond. Here are some organisations and groups where you can donate preloved toys and children's items.
Where To Donate Preloved Toys In Singapore
---
Blessings in a Bag
For 10 years, volunteers at Blessings in a Bag have been collecting and distributing donations-in-kind to communities across South East Asia, as well as in Singapore.
From toys to stationery, food and even useful electronic gadgets, the group collects pre-loved and new items from donors in Singapore.
Their online wishlist is regularly updated, depending on the needs and requests from the community. Current wishlist items include toys and games like Playdoh and Jenga, as well as food products and daily necessities.
The list also indicates the condition of the item to be donated – used or new.  It's a useful list to check before sending items over to Blessings.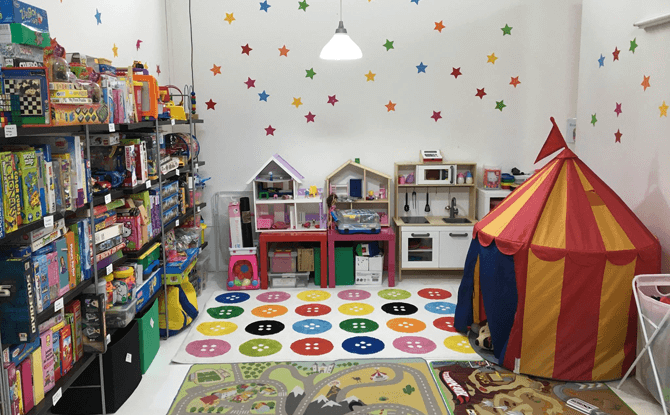 Blessings in a Bag also runs a programme called Beyond Awesome, which reaches out to disadvantaged children and youth with workshops and other activities.
They have a play area for students to interact and play together – for instance, by enjoying a board game or reading a book. The space is usually open on Thursday nights and Saturday afternoons for kids in their programme, but occasionally, Beyond Awesome opens their workshops to the public.
For an updated list of items needed and drop-off locations, see their website or Facebook page.
---
Salvation Army
Drop off preloved toys and books at the many Salvation Army booths around Singapore. Salvation Army's social enterprise arm Red Shield Industries retails donated items that are in good condition at Family Thrift Stores all over Singapore.
Other items you can donate are clothing, furniture, household goods, and electronic devices. According to Salvation Army websites, there are currently eight drop-off points (some are open 24 hours) and five thrift stores islandwide.
For bulky items like furniture, you can arrange for a collection service.
To find your nearest Salvation Army drop-off locations and Family Thrift Stores.
---
Facebook groups
There are many Facebook Buy/Sell/Trade (BST) groups in Singapore where you can let go of used toys and kids' stuff. Some of these groups encourage "blessing" or giving away kids' items – especially for families in need.
However, a common complaint in some of these groups involve people who either disappear after asking for an item or worse, collect blessed items for reselling.
So, be mindful that this is not a perfect system – and read the rules carefully before listing your items to blessing others. Still, these are good platforms for a quick way to broadcast your preloved items for giveaway.
SG Baby/kids/maternity – bless/sell/buy
Number of members: Over 16,000
Only accepts posts related to baby, kids, or maternity
Closed group that requires admin permission to access (easy to join)
Number of members: Over 18,000
Only accepts posts involving items to bless, especially for needy and less fortunate
Closed group that requires admin permission to access (easy to join)
Blessing & Selling for Babies, Toddler, Kids, Mens & Womens Item
Number of members: Over 2,000
Closed group that requires admin permission to access (easy to join)
Number of members: Over 3,000
Aims to reduce waste by connecting people who are giving away and seeking the same items
Public group
Number of members: Over 400
Collects preloved items for children and distributes them to toy libraries and needy kids in the Philippines
Not a group but an open Facebook page that's available to the public
---
Pass It On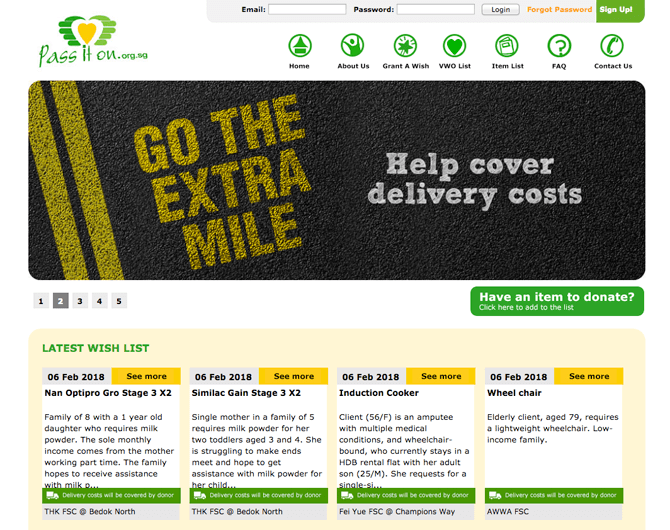 Pass It On is an online platform that connects donors to Voluntary Welfare Organisations (VWOs) and needy individuals under the care of these VWOs. Those interested in giving away preloved things can browse through the wishlist of items requested by the VWOs.
You can also list the items you wish to donate here. You can see the items which donors are offering here, and filter the results by category. Although the items for babies and kids are generally essentials like milk powder, diapers, and baby goods, there are parents who post donations like toys and books, too. When a VWO sees your listing and it matches a need, you will be contacted.
Pass It On is a non-profit project started by Central Singapore CDC and managed by The Helping Hand.