Hari Raya is fast approaching on 24 May and if you have yet to order your Hari Raya cookies and goodies, or even if you are just looking for a local home baker to support, here is a list of home bakers from whom you can order some Hari Raya goodies.
Home Bakers Selling Cookies and Goodies for Hari Raya
---
Baba's Whisk
Baba's Whisk specialises in buttercream customised cakes but also offer some delicious cookies, pastries, and brownies. They've recently launched their home DIY baking kit for you to bake with your loved ones at home. The baking kit comes with the ingredients needed for you to make a delicious chocolate chip cookies with an oven and simple baking tools. Delivery for this kit is free.
IG: @babaswhisk
FB: Babaswhisk
DeessertWerks
DeessertWerks has "bite-sized desserts to fit any occasion". Currently, you will find Onde-Onde Minis on the menu. These Pandan and coconut-infused cupcakes are inspired by the traditional Malay dessert. They are filled with homemade Gula Melaka syrup and topped with a generous amount of coconut shreds.
IG: @deessertwerks
FB: Deessertwerks
---
the.saltedplanet 
This new business does weekly cupcake bake sales with new flavours every week. Its best-selling flavour is salted caramel. It offers island-wide delivery and self-collection is available at Chua Chu Kang. Their upcoming bake sale includes flavours such as Mango cheesecake and Neapolitan.
FB: the.saltedplanet
---
MiXnCo
This halal pastry shop is 100% Muslim-owned and its tarts are certainly pleasing to the eye! They are currently selling a box of 12 medium-sized tarts and offer flavours such as Fruit Tart, Strawberry White Chocolate and Malibu Tart.
IG: @mixnco
---
Grace's Bakery
This West-side home baker is new to the scene and is running a Hari Raya combo consisting of honey cornflakes and mini Nutella tartlets at $28. Home delivery prices range from $5-$10 depending on location. Spend more than $50 to get free delivery

IG: @Gracee.bakery
---
Fasque
Who knew burnt food could look this yummy? These Muslim bakers specialise in the Basque Burnt Cheesecakes which has been increasingly popular. They have also just released their Lotus Speculoos Burnt Cheesecake which is drizzled with Lotus cookie butter and topped off with crushed lotus biscuit. Who's up to try some?
IG: @byfasque
---
Bakes by Za
Sweet or savoury? This home baker has you covered. Bakes by Za sells homemade casseroles and yummy bread puddings. The fillings for the casseroles are pretty versatile and customers can choose a combination of fillings such as beef, chicken, mushroom with rice or pasta. Free delivery is given to orders above $100. Deliveries to the East are priced at $5 and it is $10 for everywhere else in Singapore.
IG: @bakesbyza
FB: Bakes by Za
---
BVKED.CO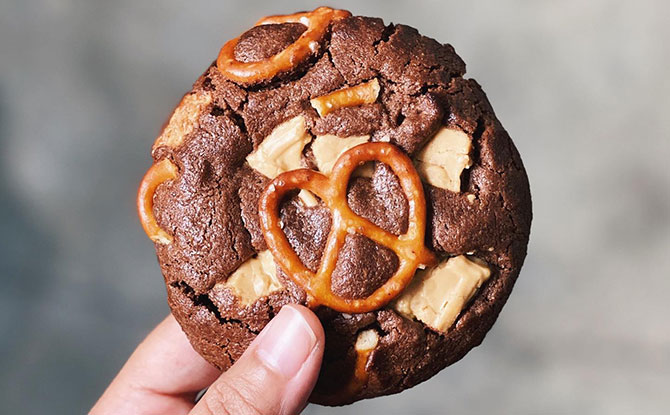 These artisanal cookie bakers have made a few appearances at past Hari Raya bazaars and, this year, you can order them through an online form. The flavours that they are currently have available include: Sea salt chocolate chip, Cinnamon raisin chocolate chip, Cereal milk chocolate chip, and they seem to be hinting at a new flavour in the works too.
IG: @bvked.co
FB: Bvked.co
---
Batrisyia Imanina
Satisfy your cravings with some delicious halal brownies, tea cakes, lemon tarts and even creamy halal tiramisu! For a limited time only, Batrisyia Imanina is offering a combo consisting of a Marble butter cake and susu kurma inspired cream puffs which are filled with date flavoured cream.
---
Nursha Delights
Get some sweet bakes in flavours such as "Milo Crunchy Kookielicious" and "Belgian Choc Cupcakes". There is also ondeh ondeh cake and cookie dough available. The latter is great if you want to try baking some cookies with the little ones…without needing to worry about cleaning up too big a mess when making it! Free delivery provided for orders in the Punggol and Sengkang area.
IG: @Nursha_delights
FB: Nursha_delights