All of us would be familiar with Zoom or similar video conferencing tools by now. The new norm for meetings is the virtual sort, regardless of backgrounds, outfits, children, make-up. That's why we've compiled this set of five Zoom call hacks for parents with toddlers or young children around the home.
Zoom Call Hacks For Parents Working at Home with Toddlers
With many parents working from home, the babies and toddlers would naturally want some attention no matter what time the Zoom call is.
We have got protips from two supermums who are also founders of Preschool Market on how to handle your video conferences with your little ones right next to you.
Zhen Xin and Su Fen have been working from home, busy with work as well as the demands of parenting. One of their projects "O'Kay Let's Play" entails many live-streaming sessions apart from Zoom meetings.
Zhen Xin is a mum of four, with her youngest children being just 2.5 years and 6 months.  Su Fen has a one-year-old daughter eager to participate in all of mummy's activities.
Who better than Zhen Xin and Su Fen to share their protips?
Tips from Preschool Market Mummies on Zoom and Working from Home
1. Use a Zoom background that is dark.
Dress your child in white or the same colour as your Zoom background so that he or she would be less visible when moving around you. Since children are usually drawn to your screens like bees to honey, they would be curious to see who you are talking to and wanting to join in the discussion as well.
The solution is to let the children be less visible and to mute your microphones when there is too much noise in the background.
2. Make use of devices that are unplugged, e.g. keyboards and mouse.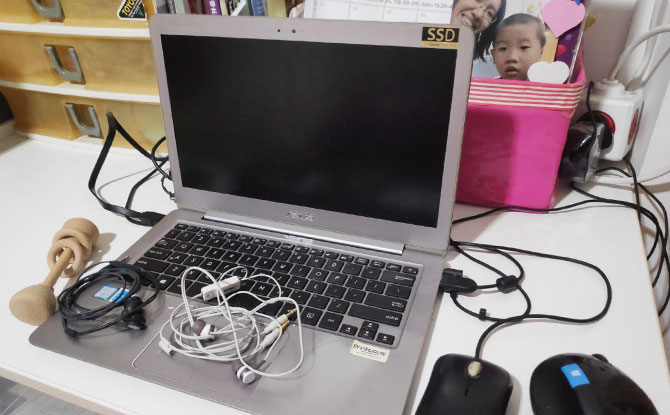 Here's when spoilt devices are very useful, whether it be old mobile phones, keyboards, mouse or cables. Dedicate these tools for your child who love to imitate the adults manouvering the mouse or typing on the keyboards.
Place your child's mouse next to yours, and you would have an eager co-worker busy at work.
Protip: Babies love grabbing at wires, cables and earpieces, let them have their own by either tying them to a cardboard at both ends or ensure the cables given are whole without any exposed wires.
3. Block the screen with toys or storybooks.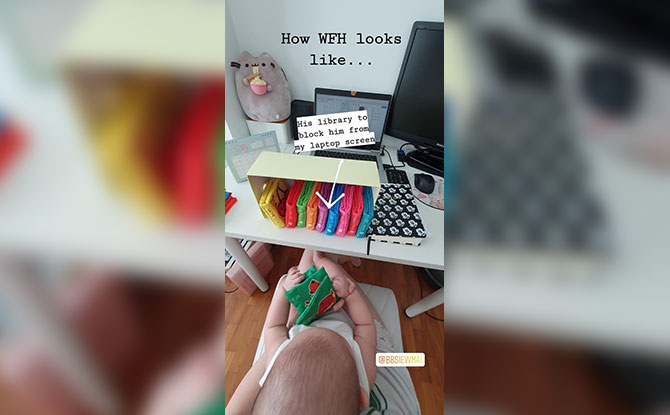 For parents who prefer not to have your child staring into your screen, block the screen with his or her favourite toys or a mini book shelf.
Use a shoe box, place it in front of your monitor and stuff it with toys and books. Minimising the glare from the screen by engaging your child in play is a win-win!
4. Place "learning corners" right next to your workstation.
Place a "learning corner" right next to your desk so that your child can be engaged right next to you while you "play" alongside him or her.
For example, a toy kitchen right next to the workstation makes sure that the kids' "pantry" is within easy reach. Play along and have a cuppa served or try a dish that is freshly made.
Other items you may like to place next to you are homemade play dough,  building blocks either wooden or DUPLO type and washable art materials.
5. Schedule calls during naptimes, babywear or put a makeshift bed next to you
If meeting times are flexible, try to schedule them according to your babies' naptime. Sleep is extremely crucial for the young ones and this should be a priority.
Either babywear them in carriers or put a small bed next to you so that nap times will not be disrupted.
Work in Peace with Your Little Ones Safely Next to You
It's perfectly natural for children to want to be near their parents. Whether you are working from home, or need to meet urgent deadlines during the weekend, keeping your children close to you is possible with some preparation.
Zhen Xin and Sufen understand perfectly what it's like to have kids around all the time. They have even had to put babies to sleep in the middle of a work call.
With these Zoom call hacks for parents, you too can juggle work routines at home. Use the tips and tell us what you think!