Wondering how you are going to get through 27 days of the "circuit breaker" with the children at home? Aside from our big list of stay-at-home resources, you may also find Preschool Market's O'Kay Let's Play helpful!
What is O'Kay Let's Play?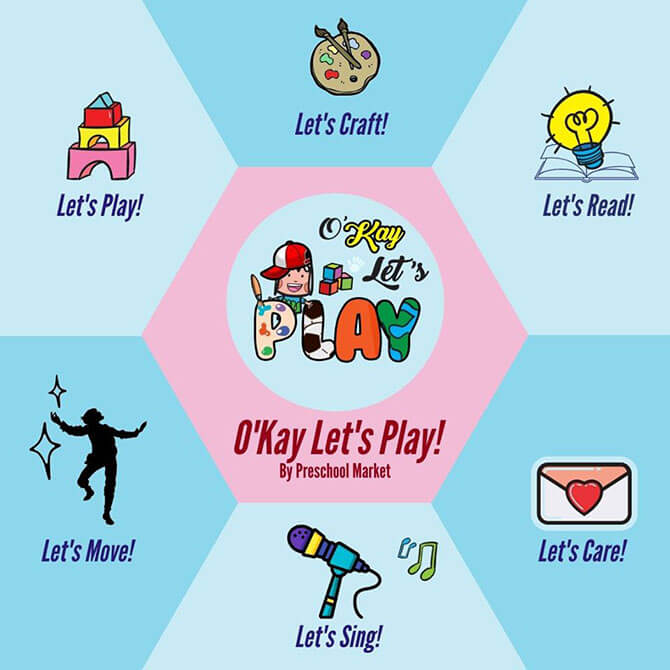 O'Kay Let's Play is a community crowdsourcing play-based learning ideas, parent-child bonding activities. It was created by Preschool Market for parents to engage children meaningfully through play. Learning is best done through play, don't you agree?
Kay, Preschool Market's mascot, will be helping you explore topics like crafting, playing, literacy, music and movement, numeracy all in a fun and engaging manner.
How to Join in the Fun at O'Kay Let's Play
Visit the Facebook group, join the group and start sharing ideas or see what ideas are shared. Activities are organised according to various topics including reading, caring, singing. If you would like to contribute, just post it in the group and the post will get scheduled.
---
-- Story continues below --
At its launch on 8 April 2020, the community will be sharing Block Play tips, some music and movement by DSA Onstage as well as making a fruit salad with the children by Playship Eadventures.
With over 200 members in the group, we can foresee an active sharing of ideas and resources!
Apart from crowd-sourced ideas, you can also download Preschool Market's free tinker kit e-resources, for ideas to learn indoors safe at home.
Different Resources on O'Kay Let's Play by Preschool Market
You can look forward to different resources shared on O'Kay Let's Play.
Let's Play is all about playing and engaging your child at the same time. Let's Read will enthral the children with story-reading by renowned storytellers and parents will also pick up tips on literacy skills! Let's move will be focusing on movement and exercise. Parents, feel free to move along too! Let's Sing – is all about….singing. Break out into sing and dance along!
Activities are about caring as well. Don't forget to show your care for your family, nature and people all around you in the Let's Care segment.
Stay safe, stay home!
O'Kay Let's Play's resources are needful in times of extended home time and also helping to strengthen familial bonds. Remember to stay safe at home and enjoy the slowdown.