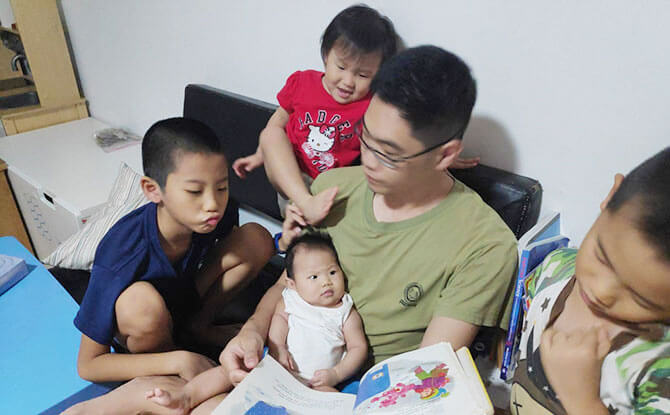 It's rare to see a family that does it all – homeschools, starts a social enterprise, has FOUR kids, and still finds time to reach out to others and encourage the rest of us. We are glad to have the opportunity to speak to the Hoons who are the founding members of Preschool Market.
I have known Zhen Xin and her husband, Sze Siang, for a number of years ever since we were colleagues. While time has flown, Zhen Xin's passion in early childhood education and unformidable partnership with Sze Siang have remained unchanged. She has since grown this not just by expanding her brood but started Preschool Market together with a partner, meeting the needs of preschools, parents and teachers alike.
How do they juggle it all? And how are they coping in the midst of COVID-19? We find out more.
First up, please tell us more about yourselves, your work at Preschool Market and life as a "home" school family.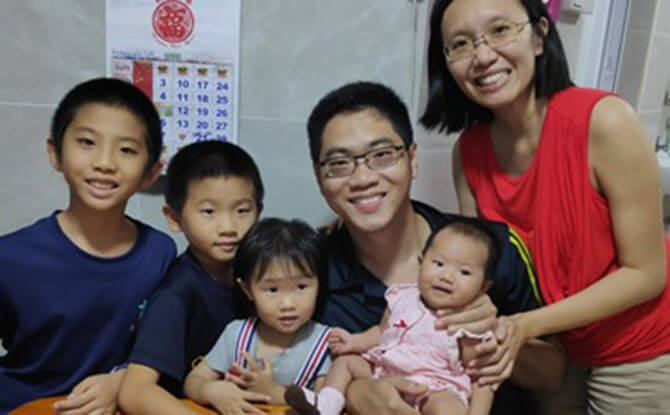 We are a family of six, with four children aged 10, seven, two plus and four months old. We started Preschool Market with a partner in 2015 when our boys were five and two respectively. At that time, we were homeschooling the boys too and from the onset, we involved the children in our work. Their first assignment was being the face and hands for an activities project. For me (Zhen Xin), I mainly work from home so that I can focus more on schooling the boys while Sze Siang spends more time out of the home. We take on an apprenticeship model of homeschooling where the children learn through real-life settings including our work. The boys watch us as we go about our work, planning for events, workshops and photography and videography assignments.
---
-- Story continues below --
How have you been occupying the children at home?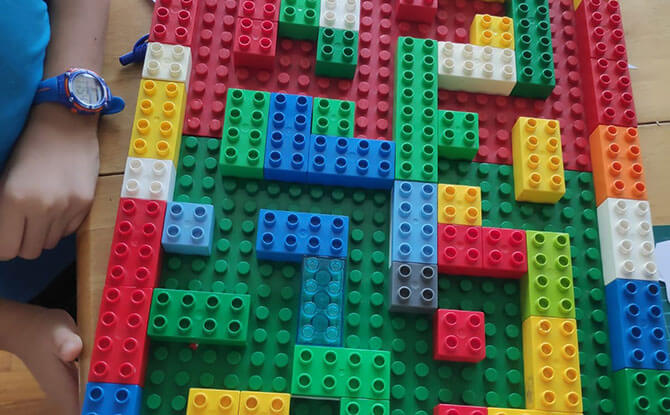 Because of the four-month old baby, we have been home even before the Circuit Breaker (CB) measures kicked in. In the earlier days, we did more schoolwork and the boys had more time on hand to work on their own projects too. Mattias (10 years old) took an interest in mazes, and drew and created mazes over three to four days on paper, on screen, with Duplo, with a box and even in Minecraft. Mattias also helped me with some design work. The little ones play games and toys.
Given the children are ages 10, seven, two plus and four months old, what kind of challenges are there and how do you overcome it, being home?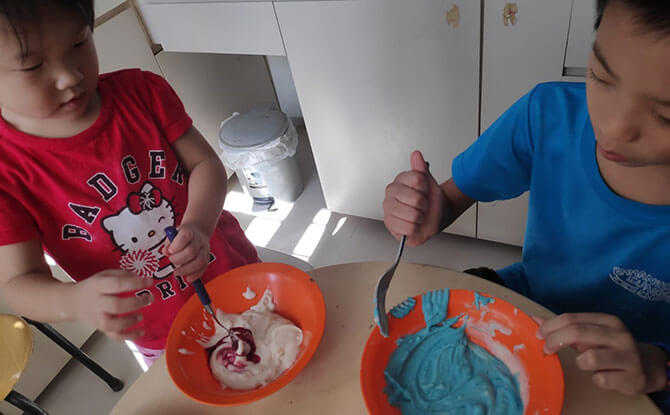 Prior to CB, we were out at least five days a week. Staying home for extended periods of time is very new to us. For one, the noise level does get to me, especially with a two-year-old and a baby, you can really get a symphony. At times, the girls require so much attention that I cannot do anything else. I involve the boys to help with the younger ones when I need to pay more attention to either baby or prepare meals. The boys are also good kitchen helpers! I communicate with the children a rough plan of the day and in what areas I will need their cooperation. This helps to reduce a lot of conflict.
Tell us how your usual homeschool routine differs from this "CB school" routine?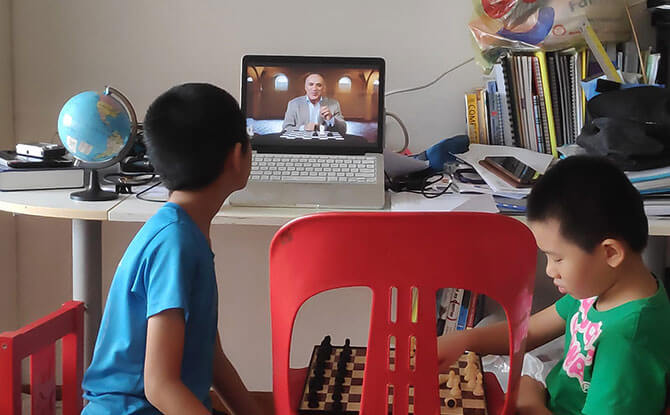 Usually we will do work only twice a week at home – seat work and some online programme. The rest of the time is spent outside either learning with other friends or on learning journeys or at the library. For now, we are homebound, with some Zoom lessons, online programmes and audio books.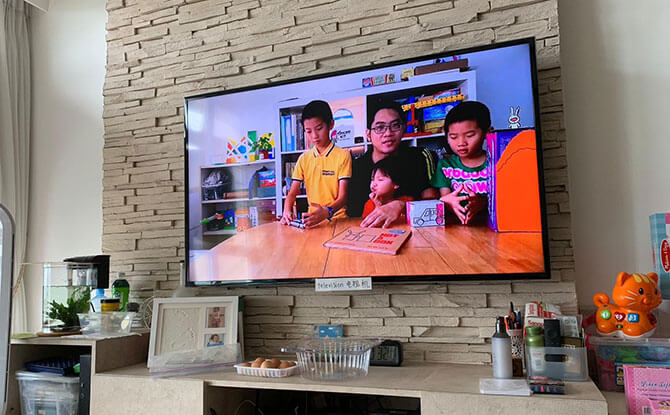 For my older boys, they like prodigy.com for math, adventure academy for interesting videos and learning new skills on masterclass. Starfall.com has interesting activities for preschoolers. The little girl loves CoCoMelon. it's really cute and catchy so be prepared to be addicted to it!
Families for Life has a good line-up of programmes for families during this stay home period.
My company also started a community page O'Kay Let's Play to crowdsource activities for young children. It is also an opportunity for me to engage my children in something purposeful at home. There are a variety of activities like craft, music, language, stories and cooking! Join us for FB Live on Wednesday and Saturday mornings at 10.30 am until the end of CB!
What are your children's favourite activities to do together at home?
My children will play pretend together, play in the tub, and the boys will play Minecraft or spend time making and building stuff. Daddy likes to bring the family together to play board games and read to the children.
How do the two of you self-care after a long work/school day?
For me, I de-stress by catching up on social media. And thanks to the free offerings on theatre shows, I've been indulging in one show a week. My husband will catch up on his interests in videography and photography when the children sleep.
What would your advice be to fellow parents struggling to work from home during this CB period?
First, be kind to yourself. Plan short periods of work with breaks to connect with your children. If there are no security issues, share with your children what you are doing and communicate clearly what is expected of them when you are working.
For my two-year-old, I will let her play beside me while I work. For the baby, I will carry her in my lap while I work if needed.
For the boys, I set aside time at night to connect with them before they go to bed. And continue with work after they are asleep.
Secondly, assess the amount of work to be done for both you and your child, and the estimated time taken. I will discuss with my children on the time I have to do their work with them. If your children are quite independent, set up their workspace near you.
Children can then ask you for help easily while you are working.
When my children are done with learning, it's their free time to just play quietly. I will let them know that I am still "at work". Let them know when to expect you to be back with them. Keep communication open so everyone knows what is expected.
This will also prevent children from coming to you all the time and break your train of thought during your course of work.
"Homeschooling" & WFH Amidst COVID-19
We thank the Hoons for their insightful sharing on HBL+WFH+ the joy of having four children at home.
Feeling a little more ready to take on the day's WFH and HBL? If you'd like more ideas on engaging your child, head to O'Kay Let's Play to find out more. If you feel even more inspired to homeschool or learn more about how homeschool parents do it all, head over to Homeschool Singapore's homelearning series page.