The holidays are always a great time – not just because of the vacation break but because there are plenty of activities taking place in shopping malls around Singapore too. With so much holiday cheer in the air, we decided to break down some shopping mall holiday activities including some meet-and-greets and live shows that you should take note of.
Shopping Mall Holiday Activities (Including Some Meet & Greets) 2019
---
Bedok Point – Minions Meet & Greet and Festive Fun (including a Pop-up Playground)
Everyone loves the sweet and loyal Minions. From 19 to 24 November, get a dose of these mischievous henchmen with Christmas-themed activities at Bedok Point. Take a dive into a ball pit of "mischief" or use a rod to fish out ice bananas. Personalise a Christmas card for your loved ones or join one of the many craft workshops at the mall.
Catch Kevin, Stuart and Bob at the meet and greet for a photo opportunity on Sunday, 24 November at 2 pm, 4 pm and 6 pm. Meet and greet passes will be given out 30 minutes before each session to the first 50 families.
In December, be sure to stop by Chapter Zero's Pop-up Playground on 7 and 8 Dec, and take part in fun craft activities and shop at the Fairmarch Flea Market.
---
-- Story continues below --
Santa will be at Bedok Point too – giving away goodies like bubble tea and vouchers! Plus, there is a #BedokPointXmas19 insta contest going on with Harvey Norman voucher to be won.
Minions Meet and Greet: 24 Nov, 2 pm, 4 pm & 6 pm
Christmas Workshops, Santa Meet and Greets from 30 Nov. Details here.
---
Jewel Changi Airport
When it comes to shopping malls in Singapore, it hard to ignore Jewel Changi Airport. For its first Christmas season, Jewel Changi Airport will be having a Sparkling Wonders of Christmas from 21 November 2019 onwards. Get ready for exciting programmes which including Christmas-themed dance performances, a special Christmas Light & Sound Show and a 16-metre tall Christmas tree! Shoppers can also redeem exclusive Disney's Frozen 2 gift wrappers and premiums too.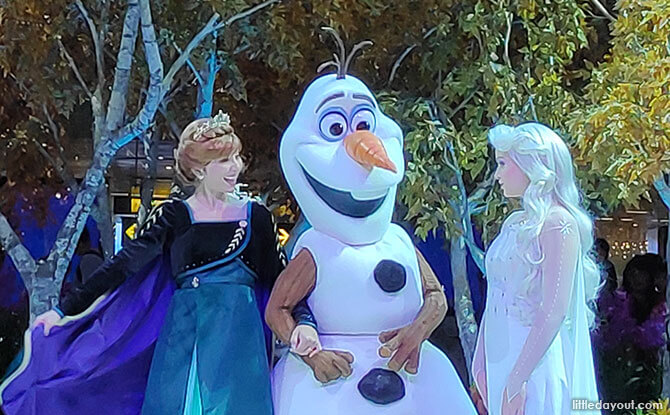 And, of course, the kids will love the Frozen 2 meet-and-greets taking place a short walk away Terminal 3 on 22 to 24 Nov and 29 Nov to 1 Dec.
Frozen 2 Meet-and-Greet at Changi Airport Terminal 3: 22 to 24 Nov & 29 Nov to 1 Dec, 11.30 am, 2 pm, 3.30 pm, 5 pm and 6.30 pm
---
UE Square & Rochester Mall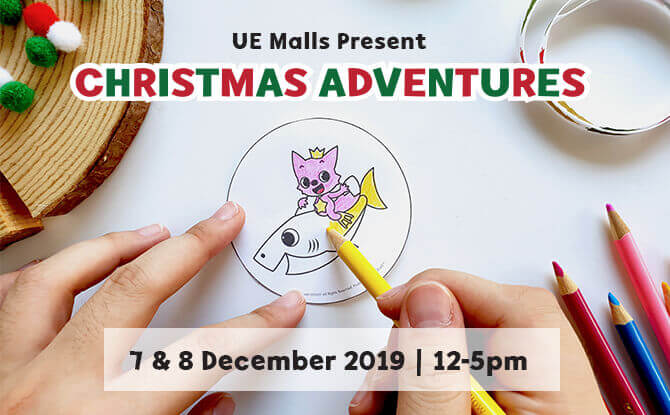 Doo, doo, doo, doo, doo. UE Square and Rochester Mall are having Christmas Adventures featuring Pinkfong and Baby Shark. There will be activities and games at UE Square on 7 December followed by Rochester Mall on 8 December. Want to meet the two duo in a shopping mall meet-and-greet this 2019? Catch them on the two respective days at UE Square and Rochester Mall.
Pinkfong and Baby Shark Meet and Greet:
UE Square – 7 Dec, 1.30 pm & 3.30 pm
Rochester Mall – 8 Dec, 1.30 pm & 3.30 pm
---
NEX – PJ Masks Live Show in Singapore 2019
Three masked crusaders of PJ Masks – Catboy, Owlette and Gekko – as well as supervillain Romeo, will be at NEX for a shopping mall live show 2019 in Singapore. The three protagonists, Connor (Catboy), Amaya (Owlette) and Greg (Gekko), who are grade-schoolers by day and superheroes by night, will be performing with Romeo live from Tuesdays to Sundays. Shoppers with a photo pass will also be able to take a photo with these life-sized characters.
PJ Masks Live Show: 29 Nov to 8 Dec, Tue to Thu, 1 pm & 7 pm, Fri to Sun, 1 pm, 4 pm & 7 pm. No show on Mon.
---
Aperia Mall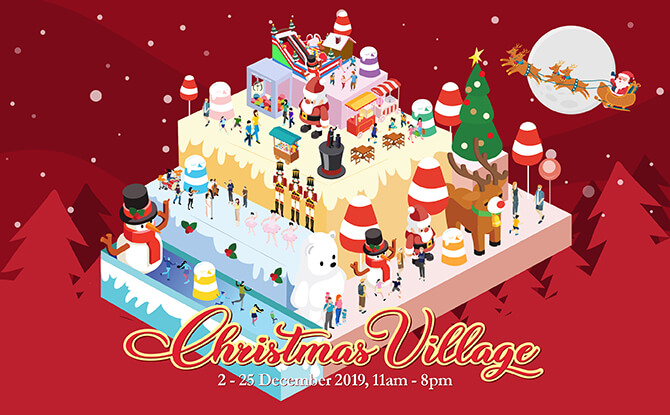 Have a bouncy good time at Aperia Mall's Christmas Village. Play at an inflatable obstacle course, zip around on an ice skating rink and grab great prizes in a human claw machine. We hear there will even be Apple wireless earphones and Marshall headphones up for grabs – literally! Santa will be stopping by at Aperia Mall too! Aperia Mall's Christmas Village runs from 2 to 25 Dec. Get more details here.