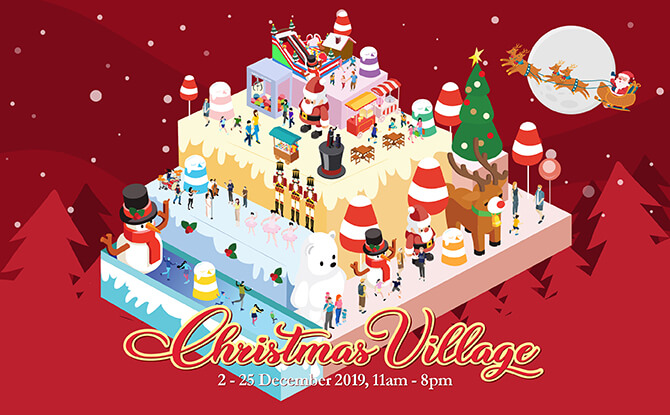 Go ice skating. Complete an inflatable obstacle course. Become a human claw and grab attractive prizes! Fun times await at Aperia Mall's Christmas Village, which opens from 2 December 2019 all the way to Christmas Day.
To add on to the merriment, there will also be performances, free workshops for kids and of course, Santa meet-and-greets at scheduled times. And if you need more reasons to join in on the festive fun, Aperia Mall offers three hours of free parking on weekends and complimentary parking from 6.30 pm to 10 pm on weekdays!
---
Go "Whee!" At The Synthetic Ice Rink
No white Christmas in Singapore? No matter! With a synthetic ice rink at Aperia Mall's Christmas Village, you can still experience the winter sport of skating – better yet, without the need to don heavy cold wear! So go ahead, glide away with glee!
Synthetic Ice Rink: 2 – 25 Dec 2019, 11 am – 8 pm.
---
-- Story continues below --
---
Conquer The Inflatable Obstacle Course
Nothing excites kids more than a bouncy castle. Imagine their reaction when they see a full inflatable obstacle course in bright Christmas theme!
Inflatable Obstacle Course: 2 – 25 Dec 2019, 11 am – 8 pm.
---
Catch Great Prizes At The Human Claw Machine
You know those claw machines that you see at the arcade? Try out the larger-than-life version at Aperia Mall's Christmas Village, where you can act as a human claw to grab prizes that include Apple wireless earphones, Dyson hairdryers and Marshall headphones!
Human Claw Machine: 2 – 25 Dec 2019, 11 am – 8 pm.
Just spend $20 in a maximum of two combined same-day receipts to redeem one ticket to play at the Synthetic Ice Rink, Inflatable Obstacle Course and Human Claw Machine stations.
---
Enjoy Live Band And Ballerina Performances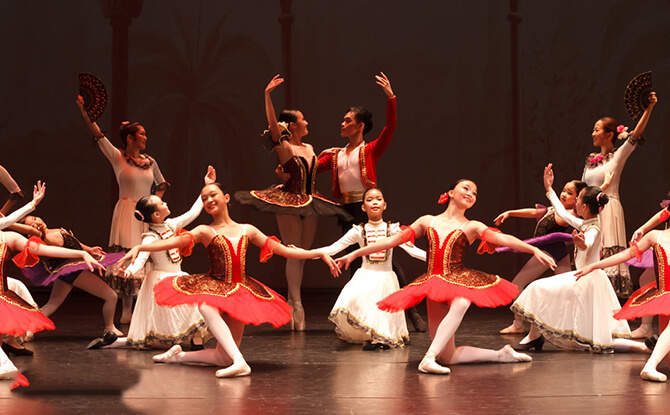 On top of the all-day activities, you can also catch the Christmas live band at various times of the day on Thursdays and Fridays. From jolly Christmas songs to ballads and jazzy numbers, its music will have you tapping your feet, and maybe even singing along!
For those who are into dance, you can look forward to ballerina performances at the mall on selected weekdays and weekends. Enjoy!
Live band performances: 5, 6, 12, 13, 19, 20 Dec 2019; 12 pm and 5.30 pm.
Ballerina performances: 3, 4, 7, 8, 10, 11, 14, 15 Dec 2019; 1 pm.
---
Let The Kids Have Fun At Free Workshops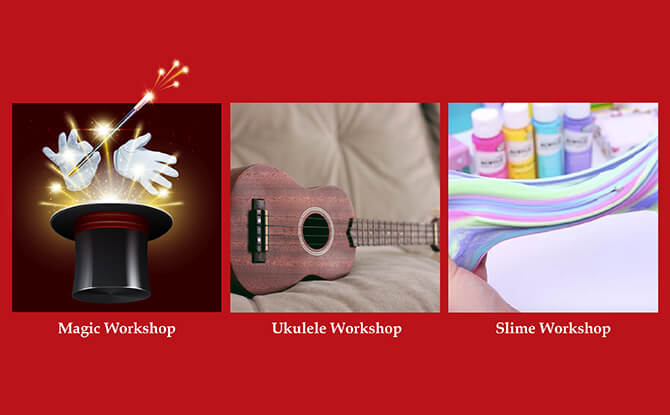 Three exceedingly fun workshops await kids' participation on weekends.
Magician wannabes will gravitate towards the Magic Workshop, where they can pick up convincing tricks with which to wow their future audience. Those who are musically inclined will love the Ukulele Workshop, where they will learn simple chords and even get to play a few songs!
If you've got a tactile kid, the Slime Workshop, with its promise of colourful, messy fun, is the one to go for.
Magic Workshop: 7, 8 Dec 2019; 2 pm. Recommended for children 7 to 12 years old.
Ukulele Workshop: 14, 15 Dec 2019; 2 pm. Recommended for children 10 years old and above.
Slime Workshop: 21, 22 Dec 2019; 2pm. Recommended for children 5 to 12 years old. 
Workshops are free for children to take part in, limited to the first 30 participations for each session. Sign up here.
---
Say Hi To Santa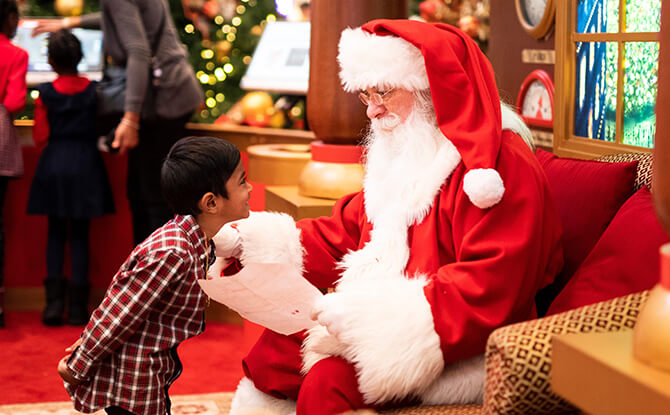 It's not Christmas if you don't get a picture with Santa, isn't it? Meet the jolly old man at Aperia Mall's Christmas Village and you'll be the one going 'Ho Ho Ho' when you receive a $1 Jollibean voucher, while stocks last.
Santa Meet-and-Greet: 6, 7, 8, 13, 14, 15, 20, 21, 22 Dec 2019; 12.30 pm, 3.30 pm, 6.30 pm.
Here's wishing you a merry, merry Christmas at Aperia Mall!
---
Aperia Mall's Christmas Village
When: 2 to 25 December 2019
Where: Aperia Mall, 8 to 12 Kallang Avenue, Singapore 339509
Website
This feature is brought to you by Aperia Mall.
More Stories on Christmas: