Enjoy a dazzling light show, experience snow in the tropics, meet your favourite Frozen characters – Anna, Elsa, Olaf, and embark on an obstacle course in an enchanted forest. The wintry Disney's Frozen-themed activities at A Frozen Wonderland at Changi and at Jewel Changi Airport will put you in the right mood as winter descends on Singapore this 2019 year end holidays.
---
Let it Sparkle & Shine Frozen Light Show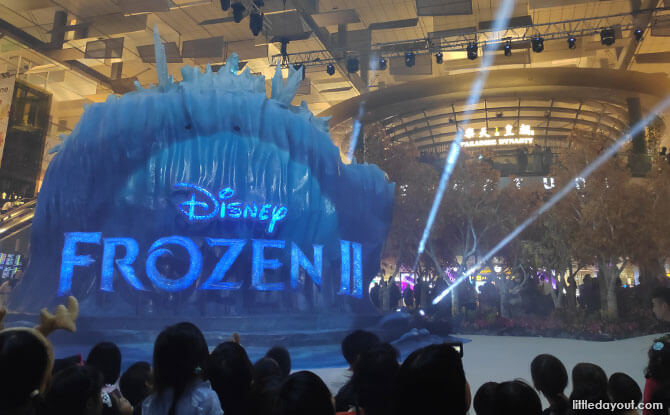 Terminal 3 is transformed instantaneously into the land of Arendelle – the setting for the Frozen movie. This is an dazzling presentation of lights, sound and snow. Enjoy a winter holiday without stepping out of the country as you dance in and out of the snowy landscape. The delightful Frozen Changi Airport sensory experience will leave your child wanting more of the Frozen experience.
Where:T3 Departure Hall, Row 11 (in front of Departure Immigration)
When: 21 Nov 2019 to 5 Jan 2020, 7.30 pm, 8 pm, 8.30 pm, 9.30 pm daily
---
Brave The Enchanted Forest Adventure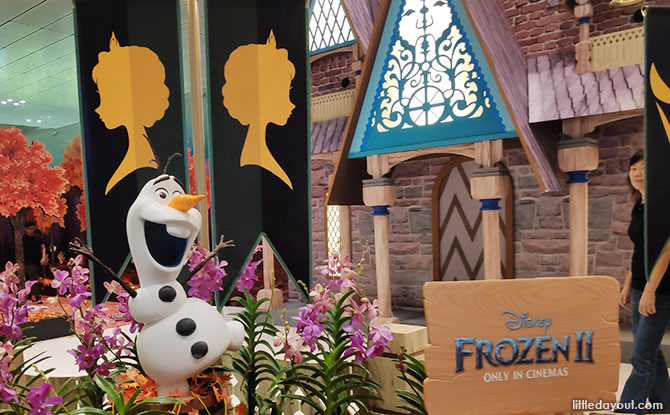 Brave the four elements as you conquer the various roadblocks in the Enchanted Forest at a Frozen Wonderland at Changi. This gives your little one the chance to feel like the Snow Queen – Elsa and her sister, Anna, as they travel through the mysterious Enchanted Forest at this Frozen Changi Airport experience.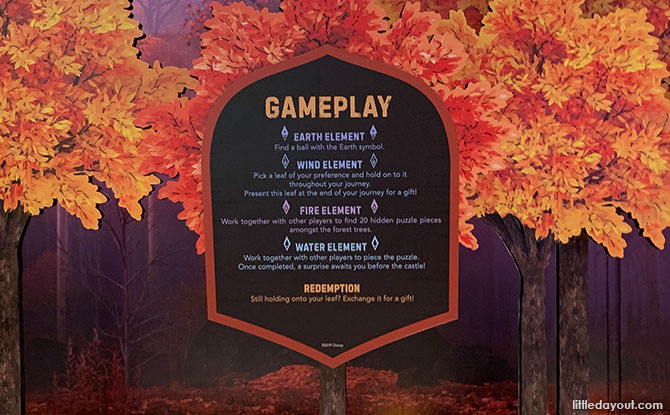 There are four different zones designed around the four elements: Earth, Wind, Fire and Water.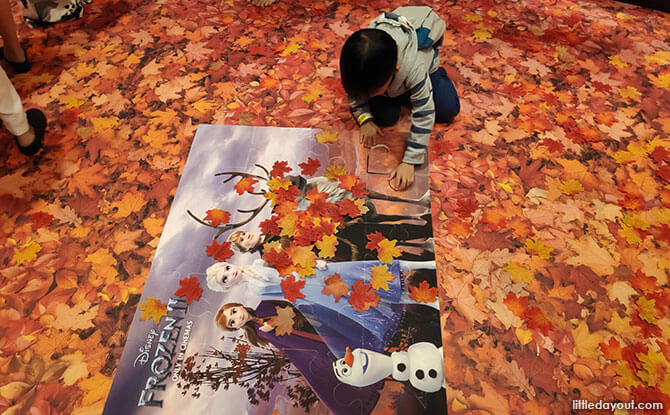 Find a ball with the Earth symbol, pick a leaf, find 20 puzzle pieces, piece together a jigsaw and conquer all four elements for a magical surprise.
A minimum spend of $50 in a single same-day receipt at Changi or Jewel is required to redeem a play slot. Terms and conditions apply.
---
Meet & Greet Elsa, Anna & Olaf from Frozen 2
Get ready with your poses, smiles and best Frozen outfits. You will have a chance to meet and greet (and hug) your favourite characters from Disney's Frozen 2. However, take note that there are limited passes for the meet and greet. Be sure to ARRIVE EARLY if you don't want your kids to be disappointed as the passes are highly coveted and sought after.
Where: T3 Departure Hall, Row 11 (in front of Departure Immigration)
When: 22 to 24 Nov and 29 Nov to 1 Dec, 11.30 am, 2 pm, 3.30 pm, 5 pm and 6.30 pm
---
A Giant Olaf – Look up!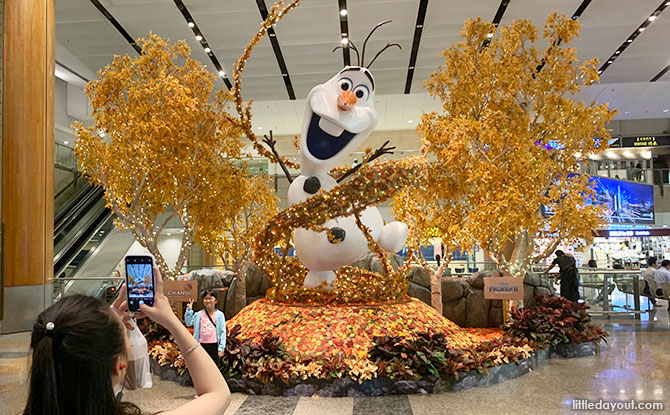 An Olaf towering over us like a gentle giant? Just look up at the T2 Departure Hall, opposite TP Tea, and three-metre-tall Olaf will find you peering curiously at him. A magical swirl twirls around him; catch a picture with him and his smiling face.
Where: T2 Departure Hall (Opposite TP Tea)
---
Limited Edition Disney's Frozen 2 Premiums and Merchandise at A Frozen Wonderland at Changi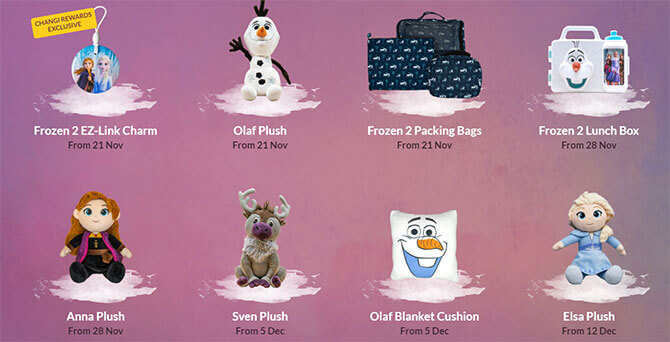 If you haven't got your hands full with Frozen 2 merchandise, the Frozen 2 blizzard of merchandise at a Frozen Wonderland at Changi will hit you harder. With a minimum spending of $60 at Changi or $120 in the Transit Area or supermarkets in a single receipt, you will get to purchase the limited edition Frozen 2 premiums at $8.90 each.
It's hard to choose from the variety available, get a Changi Rewards exclusive Frozen 2 EZ-Link Charm or special packing bags for your travels, lunchbox sets for school recess or adorable plushies that your little ones will love. If you spend with UnionPay, you get to redeem the premiums at only $1 each! Terms and conditions apply.
---
Collect Personalised Disney's Frozen 2 Memorabilia!
Explore the Arendelle castle and you might receive a surprise greeting from Disney's Frozen 2 characters as well as a chance to collect your very own personalised Frozen 2 memorabilia!
Where: Terminal 3, Level 2, Public, Next to Jewel Link Bridge
When: Friday, Saturday, Sunday, Eve of PH & PH 10 am to 10 pm, Mon to Thu (Except Eve of PH & PH) 5 pm to 10 pm
Freebie with Purchase! Disney's Frozen 2 Gift Bag Set
Calling all Changi Rewards members, get a FREE Frozen 2 gift bag set perfect for gifting with a minimum spend of $100 on iShopChangi.com! This is limited to the first 5,000 departures only, while stocks last so don't let that go!
Sven & Olaf – the Perfect Huggables Giveaway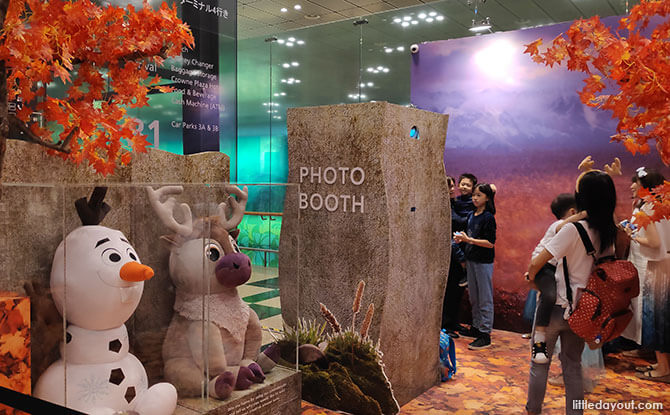 Want to win your favourite Frozen Sven and Olaf plushies? The one-metre tall plushies might be yours if you shop on iShopChangi.com or have some photobooth fun at Experience A Magical Adventure! All the best!
Changi In-store Promotions
Keep a lookout on special promotions for Frozen merchandise at the Changi stores!
For more Frozen goodness, click here or read about what's on at Jewel Changi Airport for Christmas.
Related:
Experience the Festive Sparkle at Jewel Changi Airport with Snow Fall and Specials at Canopy Park.
More Stories on Christmas: