Frozen fever has hit Changi Airport! That means that, in addition to the Frozen 2 themed activities, there are also cute plush toys and exclusive Disney's Frozen 2 premiums available for redemption at Changi Airport. Fancy an Olaf or an Elsa plush toy, or something more practical like a travel bag? Here is what you need to know about redeeming the Frozen 2 plush toys and premiums at Changi Airport this 2019.
---
Changi Airport's Disney's Frozen Plush Toys and Premiums
These are a total of seven (or eight if you are a Changi Rewards member) Disney's Frozen 2 Plush Toys and merchandise to be redeemed between 22 November 2019 and 5 January 2020.
From 21 November:
Olaf Plush Toy
Frozen 2 Packing Bags
EZ-Link Charm (Changi Rewards Members Exclusive)
---
-- Story continues below --
From 28 November:
Frozen 2 Lunch Box
Anna Plush Toy
From 5 December:
Sven Plush Toy
Olaf Blanket Cushion
From 12 December:
Elsa Plush Toy
Needless to say, all the Frozen 2 items at Changi Airport are available only while stocks last.
---
How to Redeem the A Frozen Wonderland at Changi Premiums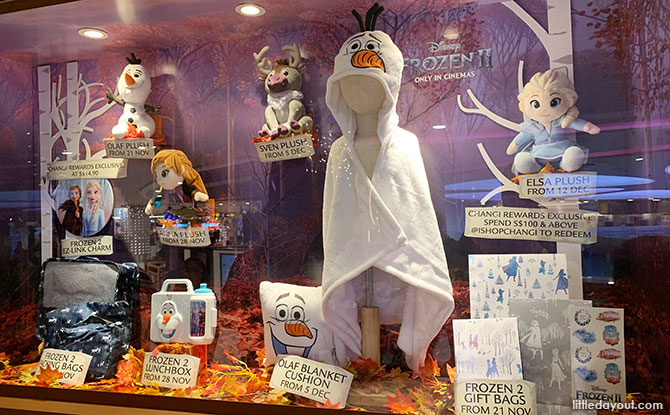 In order to redeem the premiums, you will need to spend a minimum of $60 in the Public Area, Jewel or iShopChangi, or $120 in the Transit Area or Supermarkets in a single receipt to purchase the premiums at S$8.90 each, except for the Disney's Frozen 2 EZ-Link Charm which is redeemable at S$14.90.
Spend with UnionPay and redeem the premiums at only S$1 each (except for the EZ-Link Charm), limited to two redemptions per card.
Changi Rewards Members can redeem a complimentary set of the seven A Frozen Wonderland at Changi Premiums (excluding the Frozen EZ Link charm) with an accumulated spend of $1,800 (or S$1,500 for Gold and Platinum members).
---
Where to Redeem
The Premiums can be redeemed from the public areas at Terminal 3, Terminal 4 and Jewel Changi Airport.
Public Areas
The public area redemption locations are:
Terminal 3 Public Basement 2 (Beside Poh Kim)
Jewel Basement 1 (Outside Zara)
Jewel Basement 1 (Outside Uniqlo)
Terminal 4 Public Departure Hall (Near Check-In Row 7)
Transit Areas
The transit area redemption locations are:
Terminal 1 Transit Departure Lounge – Cental Piazza (beside Shilla)
Terminal 2 Transit Departure Lounge – Main Event Araea (beside Sprint Cass)
Terminal 3 Transit Departure Lounge – Event Area (in front of Pret-a-Manger)
Terminal 4 Transit Departure Lounge – Main Event Area (in front of Coach)