Experience the magic of Frozen 2 at the Frozen light show at Singapore Changi Airport Terminal 3. The light and sound show in conjunction with A Frozen Wonderland at Changi.  Here is some useful information you should know if you want to catch the light show, including the Frozen Light Showtimes.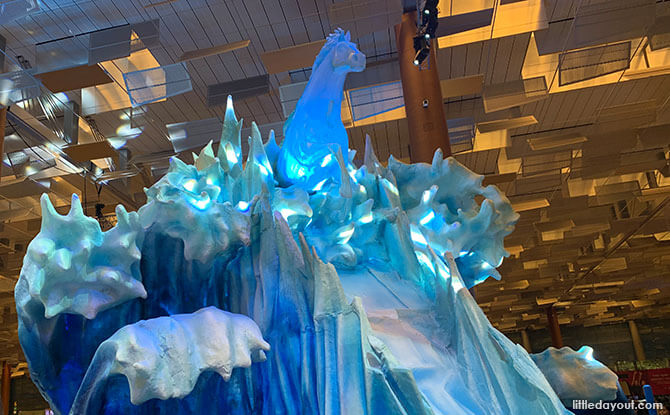 Frozen 2 the movie could not be a better reason to have a light show at Changi Airport Terminal 3. In fact, the animated show perfectly lends itself to the sparkles and shine at the area at in front of the Departure Gate leading to Immigration.
1. Daily Show
The Frozen light show will be held every day between Thursday, 21 November 2019 and Sunday, 5 January 2020. It is hard to miss the giant backdrop where the light show will take place.
2. Frozen Light Show Timings
The Frozen light show takes place four times each evening. Frozen Light Show times are as follows:
---
-- Story continues below --
7.30 pm, 8 pm, 8.30 pm and 9 pm
Yes, that's four chances to view it each and every evening during the school holidays.
3. Expect "Snow" too
Not only is there light and sound at the Frozen 2 show at Changi Airport Terminal 3 but there is "snow" too! Kids can frolic about in the white stuff as part of the experience. After all, what would Frozen be without some "wintery" snow.
4. Free to Enjoy
The Frozen 2 light show is free for anyone to enjoy. Simply stop by, you can also take pics or simply enjoy the magic of Frozen 2.
If you want to look for other spots around Singapore where your children can enjoy snow (in all its forms), be sure to check out our story on where to find snow in Singapore 2019.
Besides the Frozen 2 show, there are plenty of other Frozen-themed activities taking place around Singapore Changi Airport this year, including plushies and an adventure in the Enchanted Forest. Get more details about A Frozen Wonderland at Changi.