Trina shares her thoughts on 5 newborn essentials – things which are genuinely useful and new parents will be able to appreciate as they embark on the parenting journey. These also make great presents for parents with a new baby in the family.
As a follow up to my list of things I wouldn't label as newborn essentials, here are 5 items I'd get soon-to-be parents to #buybuybuy!
Friends of soon-to-be parents, take note – these would make great gifts! There are only so many muslin cloths, bibs and baby monitors one baby requires.
---
5 Newborn Essentials
Combi Rashule Parenting Station
When I was given a second-hand Combi Rashule Parenting Station, I figured it would come in handy, somehow.
---
-- Story continues below --
Well, I got a ton of use out of it, and more! It was my daughter's day bed every single day the first four months of her life; there were nights I had to let her sleep in it because that was the only time she didn't cry.
I like that the different Combi Parenting Stations have a few adjustable angles, one of which is completely flat – perfect for a good snooze. The stations are also height-adjustable, so lazy mama here used her foot many-a-times to rock the baby to sleep while watching TV on the couch!
They're also portable, so bub can be where you are. And last but not least, the seat cover is removable and machine-washable.
The Combi Parenting Stations are designed to grow with the baby. Eventually, many parents would come to use it as a high chair at meal times. I even used it as a baby "armchair" – my daughter loved that she could get on and off the seat independently.
One item, multiple uses, less clutter – a sure winner in my books.
The Combi Parenting Stations are available online here.
---
Foldable Bathtub
Credit: Stokke
One of my first buys in preparation for my daughter was a bathtub – a heavy, sturdy, expensive bathtub that came with a heavy, sturdy stand.
Let's just say it wasn't a purchase I'd thought through clearly. However, if you have a spare bathroom where you can simply leave the bathtub and stand, I'd recommend it, especially since standing to give baby a bath in the early weeks postpartum beats sitting/squatting.
Mind you, the stand should only be used for the first few months of your baby's life. When he or she starts sitting up, it probably would be best for the bathtub to be placed safely on the bathroom floor.
In any case, I sold off that first bathtub the minute I could, and replaced it with a foldable bathtub that I still use and adore! I love that it's lightweight, and well, that it folds away neatly when I'm done with it! Rectangular in shape with straight edges, I find it particularly spacious and it's definitely going to be able to accommodate my daughter for a while yet!
I use it every single day for my daughter's baths, and have used it for sensory play too.
Get the Stokke Flexi Bathtub here.
---
Activity Gym
Credit: Skip Hop
I had had no intention of getting baby an activity gym because I thought the bright primary colours were just so garish.
That all changed when it became the most used and loved toy my daughter had for the first year of her life! Yes, the colours were still loud and hurt my eyes, but the toys and music kept my baby entertained for hours on end, and that's what mattered the most.
In fact, you'll find some really beautiful activity gyms in the market today, like the Skip Hop Vibrant Village Smart Lights Activity Gym from Pupsik Studio. It's a neutral grey, which will blend in nicely with most home interiors.
When I was ill and needed some shut-eye, I put my daughter in her activity gym to play. Lying on the padded play mat was so comfortable that she actually fell asleep on her own! After baths, the activity gym was where my baby would be for a little tummy time before getting fed or being put to bed. The activity gym was also where she flipped for the first time!
If your friends are about to become parents to a newborn and you're looking for a great gift, definitely consider an activity gym.
---
Baby Carrier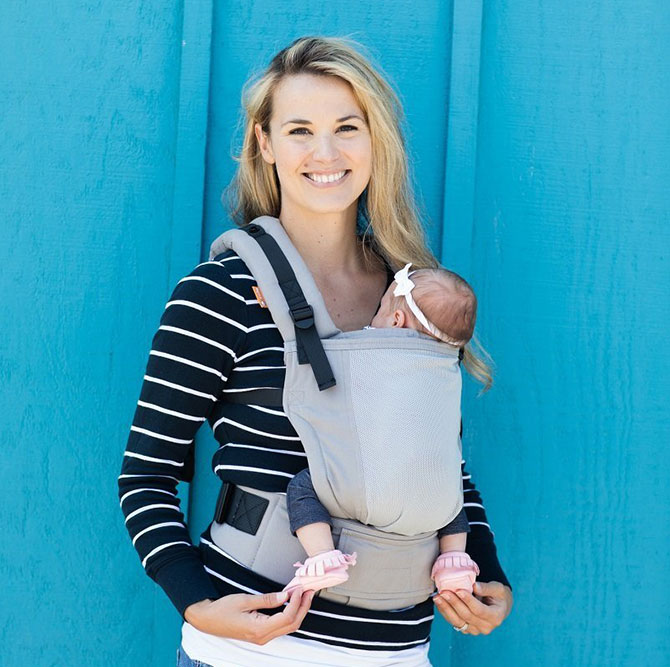 Credit: Tula
Being out and about alone with a baby is very daunting. Just thinking about what the baby might need is enough to put anyone off – I mean, who wants to juggle a fussy baby, a pram, and a heavy bag of everything and anything!
From the get-go, I made sure to invest in a good baby carrier because I knew I didn't want to have my hands full manoeuvring a pram in and around Singapore, while looking after my baby. 23 months on and I'm still using my Tula Mesh Baby Carrier.
Babywearing is the best thing ever! Not only am I hands-free, my baby is also tucked safely within the baby carrier. I never have to worry about full lifts or trains, and taking the bus – or a stroll – is as easy as pie!
There are so many brands and types of baby carriers out there – do you want a Soft-Structured Carrier, or a wrap, or maybe a sling? Do you want one to use from infancy, or one for an older, and stronger baby? Or perhaps you want a carrier both mummy and daddy can use?
Before you purchase a pretty, and popular baby carrier online, visit a baby carrier shop and try on a few different types of carriers. Some retailers advise waiting until the baby is born so that you can try on the carriers with baby in it. While it is true that some babies do not enjoy being in a carrier, I'd say they are the exception, so go ahead and get a carrier that feels good to you!
For starters, you might like to look into the Tula Free-To-Grow Mesh Baby Carriers which you can purchase off Pupsik Studio here. The Free-To-Grow carriers can be used from infancy, without the need for an additional infant insert. The mesh design also helps keep the baby cool which is so important with us living in the tropics! By the way, with baby plastered to you makes the babywearing situation hot, hot, hotter!
---
Kimono-Style Onesies
Kimono-style onesies mean that you won't have to struggle to get a squirmy newborn's head through a little neckhole, so getting baby dressed becomes a much more pleasant experience for everyone!
These kimono-style onesies now come with stud buttons or zips, have long or short sleeves, and are footed or footless. The design options are endless! I had a ton of these kimono-style onesies which I eventually passed on to friends who really loved putting their babies in them too.
You can get kimono-style onesies almost anywhere now but my favourites are the mesh ones from Uniqlo they're great value and help keep baby cool in the day!) and cute party-ready ones from Petit Bateau (size up if you'd like baby to wear this for longer as Petit Bateau's designs run a bit smaller).