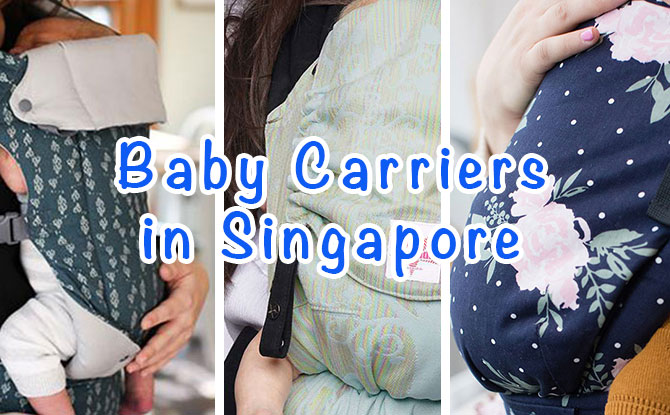 We review three different baby carriers in Singapore and provide our thoughts on each of them and babywearing.
In the last two years, one baby essential you'll always find me toting is a baby carrier. I've rarely been without my trusty Tula Mesh Baby Carrier which I've used since my daughter was about 4 months old.
Knowing how overwhelming it is deciding on a baby carrier – in addition to choosing a stroller… and a cot… and a milk bottle… and really, the list just goes on – here are reviews of three baby carriers I used back in the day.
Just as every baby is different, so is every parent! What fits me might not suit you, so I highly recommend trying out a few different brands and types of baby carriers for yourself! There are a few retailers, and even Facebook groups, that conduct babywearing sessions so new parents can learn more about baby wraps and carriers. More importantly, you'll get tips and advice on ensuring baby is safe within the baby carrier!
Baby Carriers in Singapore
---
Kokadi Flip Baby Carrier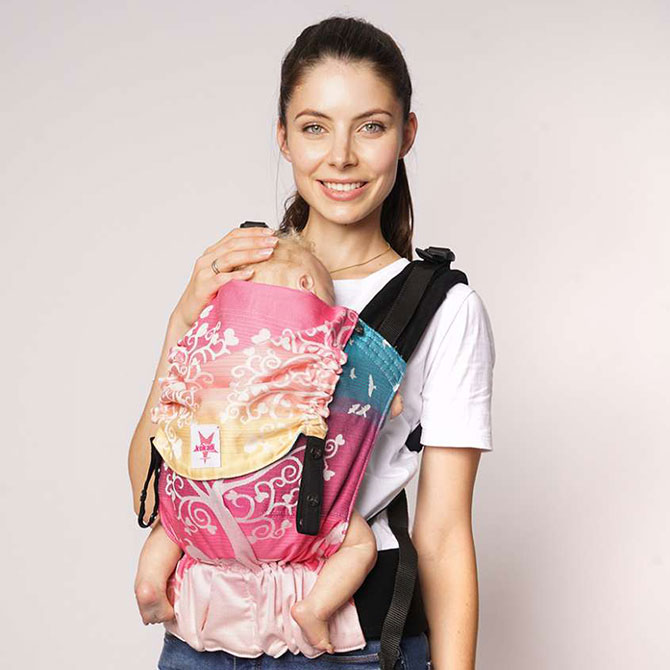 The Kokadi Flip Baby Carrier falls under the category of Soft Structured Carriers. Full Buckle, it is the perfect alternative to a baby wrap as it's so simple to put on – a couple of clicks, and you're on your way!
Made with high-quality 100% organic cotton woven wrap fabric – also commonly known in the babywearing community as a wrap conversion – Kokadi Flip Baby Carriers are soft to the touch straight out of the box, and will certainly keep baby – and the babywearer! – cool which was a big plus for me.
The Kokadi Flip is adjustable so you'll be able to achieve the perfect fit for your baby from the time he or she is a newborn! Kokadi has made it super easy to adjust the seat for your baby – cinch the seat fabric until baby legs are in the spread-squat position and the seat will stay in place via the velcro.
I would highly recommend the Kokadi Flip for petite Asian builds as the padded shoulder straps aren't too wide and sit comfortably on my shoulders. However, if mummy and daddy are looking to share the baby carrier, you might want to consider getting the Kokadi Flip Z which is able to accommodate slightly wider waists.
One of the reasons I didn't continue using the Kokadi Flip was because I felt it didn't provide as much support for my daughter as she grew and got heavier. With its woven wrap fabric back panel, the Kokadi Flip is great for newborns since there is no pressure on your baby's back, thus supporting the natural C of their spine. However, a carrier with a slightly sturdier back panel frame will not only provide more support for the baby, but it will also help with better weight distribution
Supporting a weight limit between 3 to 15 kg, Kokadi Flip Baby Carriers are priced from about S$250 and up. They're available for purchase in Singapore through a number of retailers. To find out more, go here.
---
Beco Gemini Baby Carrier
The Beco Gemini is also a Soft Structured Carrier that can be used for newborns without the need for an infant insert. However, adjustability of the seat is limited, so it may be challenging to achieve the best fit if your newborn is slightly tinier than average.
Fully machine-washable, it can be used in a number of ways, including back, and front facing, hip-carry, and back-carry. Supporting a weight limit between 3 to 15 kg, the Beco Gemini is a carrier that will grow with your child.
Lightly padded all over, the Beco Gemini definitely provides more structural support for the baby. However, that also means the carrier isn't as cosy for the little one. At the same time, the padding makes it quite warm a carrier to be in for long. It used to get almost unbearable for my husband when he would babywear our daughter in Singapore. When we used the carrier during our winter holiday in Taiwan though, he was fine to use it for longer.
There is the option of getting the Beco Gemini Baby Carrier with a breathable mesh back panel for added airflow, but that wasn't – and still isn't – available through local retailers, such as Agape Babies and Toddle Singapore.
The Beco Gemini Baby Carrier doesn't have a separate sleeping hood or cover; there's a foldable flap which simply flips up or down to create some sort of a head rest, but it doesn't help much to block out external stimulation, especially important when attempting to put baby to sleep.
Just so you know, we'd bought the Beco Gemini Baby Carrier because my husband wanted one that wasn't "pretty", and ideally, would be all black. We also knew that he wouldn't be babywearing much, so we didn't want to spend too much on it.
When he put it on, he found it very comfy as the shoulder straps are wide and padded. However, when I put the carrier on, I found the straps far too wide, and the waistband much too thick for my liking! In my opinion, the Beco Gemini Baby Carrier would better suit larger builds.
Limited designs of the Beco Gemini Baby Carrier are available online from Agape Babies, starting at S$209.
---
Tula Coast Mesh Baby Carrier
The Tula Coast Baby Carriers are a reinterpretation of the brand's original framed panel design using breathable mesh material which creates a ventilated carrier, perfectly suited for active lifestyles and warm weather locales. Available in a myriad of designs and iterations, mummies around the world are crazy for Tula!
By the time I started using the Tula Coast Baby Carrier, which supports a weight limit between 6 to 20kg, my daughter was big enough not to require the infant insert. I've heard the insert makes it quite warm and uncomfortable for baby in Singapore, so this might be a consideration if you'd like something for use from infancy.
The shoulder straps are well padded, and aren't too wide for my small Asian build; the same goes for the waistband. FYI, my husband has on occasion used our Tula, and he's found it too "small" for his liking, so again, if mummy and daddy are looking to share a baby carrier, you might both want to give this a test run before buying it.
I love that my Tula Coast Mesh Baby Carrier has a little bit of everything that still makes it my go-to now that my daughter is almost 2. Firstly, it has a detachable mesh hood that helps to minimise, if not block out, any kind of stimulation. There's also a little pocket on the front of the waistband that I use to hold credit cards, coins, and keys too. Lastly, as a Soft Structured Carrier it hugs my baby tight, while at the same time providing her with ample support as she grows bigger and heavier.
Since I started using the Tula Coast Mesh Baby Carrier, the brand has launched two new collections, namely Free-To-Grow and Explore, both of which you can use from birth without the need for an infant insert as the seats are adjustable. I have had friends use carriers from both collections and they have all raved about them!
---
Final Thoughts
A baby carrier is so handy, even for use at home. Babies just feel safest right up against us, so I have no qualms about doing chores while carrying baby when it comes down to it.
I have had no regrets getting my Tula Mesh Baby Carrier, and would buy a new one from them if I have to.
That said, I'd recommend the Kokadi for the early days since there's no need for an infant insert which would make babywearing more comfortable for everyone involved.
There are a few brick and mortar retailers, and online ones, who carry a good range of Tula carriers. Some of the retailers have a "try out" fee that will offset the final cost of your carrier if you decide to buy it from them. Give them a call about trying out the different carriers before you decide on one!
Top image composite of Kokadi, Beco and Tula.