Maybe it is your child's first school bag or perhaps the old one just needs replacing. Whatever the case, it is time to go shopping for school bags in Singapore.
We round up some suggestions of where you can buy school bags in Singapore.
---
Shopping For School Bags in Singapore
1. Jansport
Jansport is our personal favourite brand for school bags in Singapore. These come in various sizes and designs and make great general purpose bags. One thing to take note of in relation to Jansport bags is that not all of them come with the netted pocket by the side can be used to carry a water bottle on the outside. If this feature is important to you, you may wish to consider Jansport's Big Student Backpack ($69) which has two main compartments, plus the side pocket. You can get Janssport from shops such as Tangs and The Wallet Shop.
2. Dr Kong
Dr Kong may be best known for its "healthy" footware products but, as a brand that focuses on spine health, it also sells pressure free school bags. These bags range from small to extra large size. Dr Kong's school bags come in a variety of designs and are said to reduce neck, shoulder and back pressure. These school bags cost between $39.90 to $89.90. If you are keen to try the Dr Kong school bags in Singapore, there are Dr Kong store locations in The Seletar Mall, Northpoint City, Changi City Point, JEM and Causeway Point.
---
3. IMPACT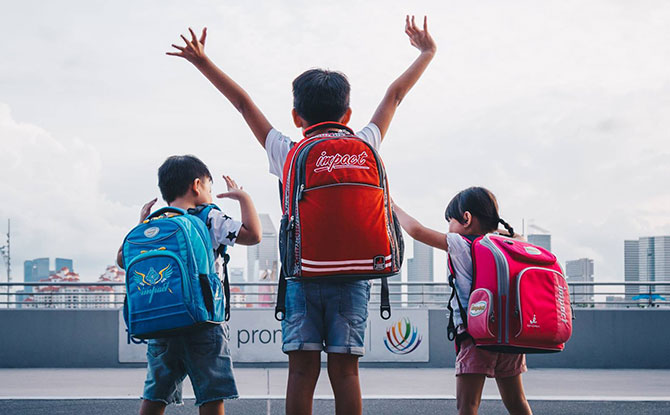 IMPACT is another brand that offers spinal protection school bags. These bags are generally lightweight to reduce stress on the spine while promoting better posture. One of the bag's features is large zippered openings – to make it easier to access the books stored inside. IMPACT bags typically retail around $100 and up. To try out these school bags in Singapore, visit Ergoworks showrooms at Marina Square and Centrepoint.
---
4. Smiggle
Smiggle backpacks are highly popular because of their cute and colourful designs. The backpacks, which can serve as school bags, range from around $40 to $60. These bags come with zipper compartments and adjustable shoulder straps. A plus point for your child who is a fan of their cute designs is that they can get Smiggle stationary to go along with the bag. A drawback is that your child runs the risk of encountering other students with the same Smiggle bag in school!
---
5. Eagle Creek
Eagle Creek school bags come in a variety of designs ranging from smaller day packs to larger backpacks. They are quite hardy and able to last for a long time (one of our team members recall them lasting all six years of her primary school days). Prices range from around $80 to $130. You can get them at shops such as Planet Traveller.
---
6. Anello
Anello bags are pretty trendy. Hailing from Japan, the backpacks, with their distinctive zippered design, allow easy access to the contents within. Anello bags can be purchased from major retailers around Singapore.