One of the most memorable and marvellous things you can do in Japan is to indulge in a relaxing soak in the hot springs. Ideally in the midst of winter. With fresh, crisp air and snowy mountains in view.
Though it's difficult to replicate that here in the tropics where we're steaming from an entirely different kind of heat, you can still get a taste of the onsen experience at certain spas around Singapore.
Here, we show you where to go for a dip that lets you unwind, recharge and make-believe you're on vacay in Japan.
*Note: Do pay attention to the safe distancing measures and COVID-19 health rules in place at each spa. Also, abide by each establishment's onsen etiquette.
---
Onsen-style Spas in Singapore
Yunomori Onsen Spa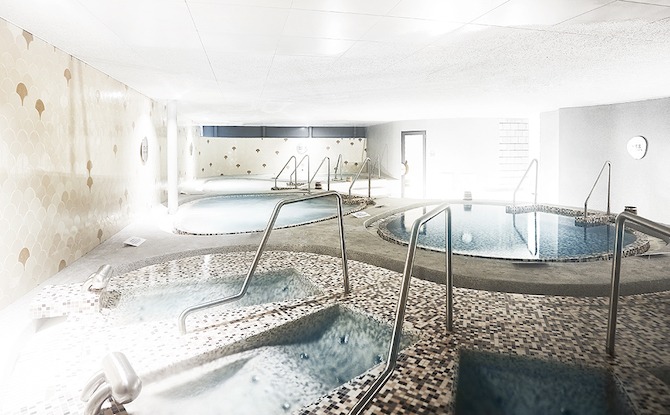 Take your pick from a range of onsen baths, each offering different therapeutic benefits. You can soothe muscles and ease tension with a jet bath that shoots out full-body streams of highly oxygenated water, for instance; or boost your circulation and increase blood oxygen levels with a soda bath consisting of carbon dioxide-rich water. There's even a sensual and deep-cleansing silk bath filled with tiny bubbles. An onsen day pass will give you access to all the baths, plus amenities and usage of the lounge. Alternatively, purchase an onsen-and-spa package, which combines a relaxing and detoxifying onsen session with a spa treatment such as a traditional Thai massage.
#02-17/18 Kallang Wave Mall
Tel: 6386-4126 / 6385-7986
Website
---
Ikeda Spa
This well-established spa is set up to feel like a cosy ryokan away from the hustle and bustle of city living, with its Zen-inspired interiors and Japanese standard of hospitality and service. It's the first spa in Singapore to boast an onsen bath made from hinoki – premium Japanese cypress wood that was once reserved strictly for royalty and used in building palaces and shrines. The wood releases soothing-smelling mineral oils, and also delivers antibacterial benefits. There is a choice of single or couple bath, as well as five bath salts with different aromatherapy and health functions.
787 Bukit Timah Road
Tel: 6469-8080
Website
---
Elements Wellness
Another renowned player in the local spa scene, Elements offers onsen therapy at its Centrepoint outlet. There in a private room, you'll get to enjoy your bath ritual in a handcrafted wooden tub made from koyamaki (Japanese umbrella pine) – said to be one of the country's five sacred trees because of its beauty and healing properties such as being antifungal and antibacterial. The water in the bath is ionised so as to deliver anti-ageing benefits (negative ions help to counter free radicals) and work as a natural mood-lifter. At a temperature of between 38 to 42 degrees Celsius, the water's heat also boosts blood circulation and metabolism, while enabling your body to remove toxins through sweat. To get the most out of your onsen session, it is recommended that you follow it up with a massage treatment.
#02-28 The Centrepoint
Tel: 6737-8488
Website
---
Joya Onsen Cafe
Located within the Arena Country Club, across the road from SAFTI Military Institute, this recently opened establishment offers both public and private onsen pools. The public ones are shared with others of the same gender and include facilities such as a common changing room and shower area, a cold bath and sauna. There are no time limits, so you can soak as long as you like. Those who are shy about going buck naked in front of strangers can opt for a private onsen instead, which is set in a room with its own shower and dressing area plus sauna. There is a time limit of one hour 30 minutes for each private session, mixed genders are allowed and up to five people can be in the room if they are fully vaccinated. Swimsuits are permitted in the private onsen, but not the public ones, and you're not allowed to wear your own clothing or towel into the pools in both cases. The spa has an onsite cafe offering sushi, ramen and desserts so you can grab a light bite in between your dips.
511 Upper Jurong Road
Tel: 8847-2081
Website