Spectacular imagery, stirring music and brilliant colours. Special edition multimedia shows taking place around Singapore provide a way to light up the year-end as 2017 comes to a close.
Here are 4 special multimedia experiences taking place around Singapore where you can head out to mark the end of another year and have a memorable start to a new one.
---
#1. IgNight @ Cloud Forest
Cloud Forest, 29 to 31 December 2017, 6 pm to 10 pm
With floating mist and a thundering waterfall, Cloud Forest at Gardens by the Bay has the hallmarks of being a mystical place to visit. Now, you can visit it in the evening from 6 pm to 10 pm between 29 to 31 December for an even more enchanted time.
IgNight @ Cloud Forest is a special, three-night interactive event being held at Cloud Forest. Download the IgNight app for the mobile device and experience a combination of digital technologies and storytelling as you venture through the Cloud Forest. Go on a journey of discovery with auras based on personalities as diverse such as Marco Polo, Steve Jobs and Walt Disney.
Usual Cloud Forest admission charges apply. Enjoy a discount with BRAND'S Netsflashpay card.
---
#2. Northern Lights Projection
Forest Dome, Till 8 January 2018, 7 pm onwards
Be captivated by the sights of the Northern Lights at Gardens by the Bay's Flower Dome. This projection of Aurora Borealis takes place from 7 pm onwards in the evening.
Usual Flower Dome admission charges apply.
---
#3. Pop Up Night and Merlion Magic Lights
Sentosa, Till 1 January 2018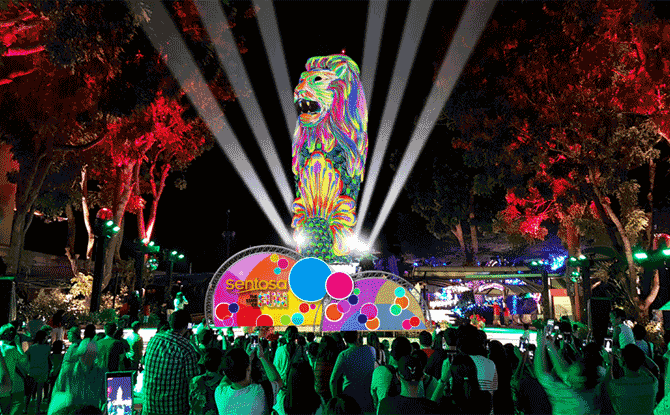 Pedal away to light up your angel wings on Bright Angel Bicycles and be befuddled by the House of Gnomes optical illusion at Imbiah Lookout. Then, head over to the Merlion Plaza to catch the Celebrations Edition of Merlion Magic Lights from 7.45 pm, 8.15 pm, 9.15 pm, 9.45 pm and 10.15 pm.
---
#4. Marina Bay Countdown Projection Show – Fullerton Hotel, Merlion and ArtScience Museum
Marina Bay, Till 31 December 2017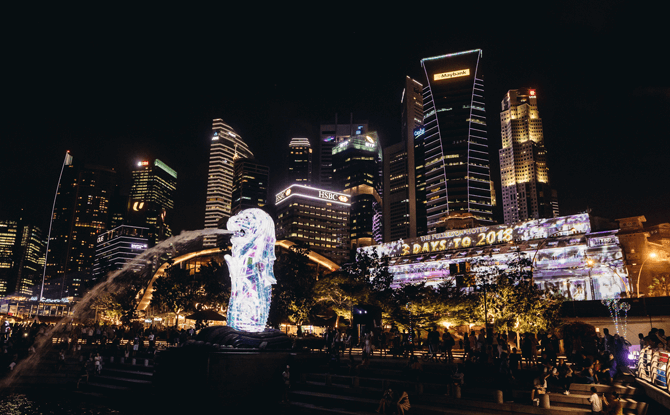 As part of Marina Bay Singapore Countdown, a synchronised light show, taking place across three landmarks around Marina Bay will be held in the evenings till New Year's Eve. The Fullerton Hotel, Merlion and ArtScience Museum will see animated projections light up their facades in the evenings. The projection shows will take place at 8 pm, 8.30 pm, 9 pm, 9.30 pm and 10 pm up until 30 December 2017.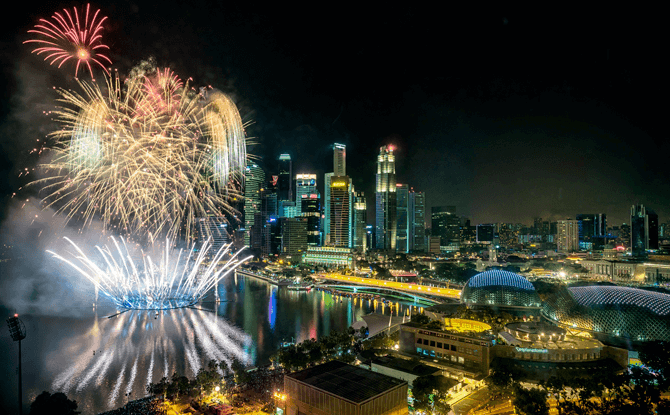 On New Year's Eve, the light projections will take place at 8 pm, 9 pm, 10 pm, 11 pm and 11.55 pm. One-minute firework displays will be held on every hour from 8 pm on New Year's Eve. A special countdown will be held after the final show at 11.55 pm, leading up to a six-minute firework display at the stroke of midnight to welcome in 2018.