Go on a wintery escapade with glittering lights and festivities for all only at Changi Jewel Airport this Christmas season! There are fun performances, many photo ops and a 16-metre tall Christmas tree!
Read more here!
Subscribe to be the first to catch all our other videos: https://www.youtube.com/littledayoutsg
More Stories on Christmas:
---
Story continues below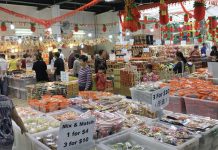 Want to know where to get superb CNY bargains? We uncover where the aunties shop for their festive goodies! Don't let the distance deter...
As parents, we want to give Baby the best care we can afford. But how can we be sure that we're making the right...
---
West is best and we have the biggest bouncy playground to prove it. Bouncy Paradise which was last seen with its pop-up at PeopleUp@Pandan....
Singapore's shores are teeming with wildlife we wouldn't usually notice. Getting to an intertidal zone during periods of low tide is the best way...
FEATURED LISTINGS