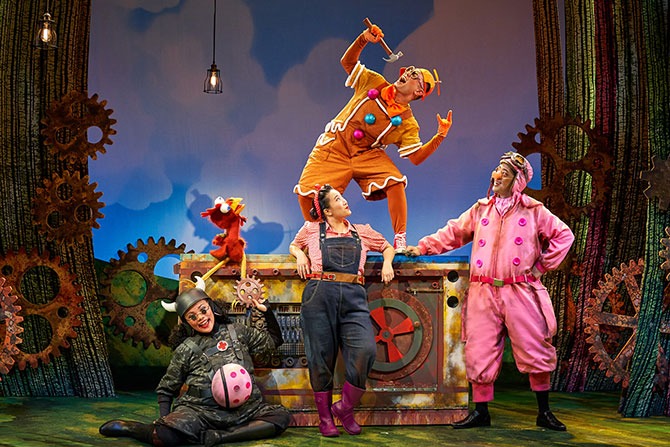 Singapore Repertory Theatre The Little Company's contemporary musical adaptation of "The Gingerbread Man", by Caroline Wigmore and Jennifer Green, has all the ingredients of a well-baked musical, with an added bit of crunch.
We took the kids, aged 6 and 8, to meet the fast-running, fast-talking ginger-bready man-boy and it was a musical adventure to remember.
Freshly Baked
An imposing oven in the farmhouse takes centrestage with Anya the farmer busy preparing for an annual bake sale with the help of farm animals Miss Daisy, a cow, Mr Jiggles, a pig, and Rooster.
Audience members were invited to help power the humongous oven by generating more electricity through an action-rap "E-lectricity! Let's make some energy!"
To the sporting chants of the audience, out from the oven pops a high-energy, mike-holding "gingerbread cookie man". He is dressed to the nines with shiny "gumdrop buttons and a liquorice smile" belting out high notes to thrill the audience!
Run, Ginger, Run
However, one thing leads to another and Ginger ends up sad and feeling misunderstood when he messes up the chores and unintentionally breaks the oven by doing things his own way. He runs away in response to reprimands.
---
Story continues below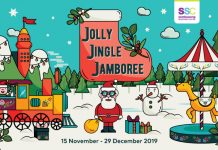 This yuletide season, Sembawang Shopping Centre is celebrating the festive spirit with a Jolly Jingle Jamboree from 15 November till 29 December 2019. Families...
Arts in Your Neighbourhood returns from 7 to 24 November 2019, bringing exciting performances and memorable arts experiences to your doorstep. Get ready for...
---
Next entered my daughter's favourite character of the show, Fox. A bushy-tailed feline villainess, she and her conniving sidekick, Weasel, who has a weakness for donuts and all things baked to sugary perfection, catch sight of the delicious vision of a life-sized giant gingerbready confection walking in their direction.
The bickering villains plot to entrap earnest Ginger by getting him to run a race in order to win a brand new oven for his mother.
Spice and Everything Nice
The show's physical playfulness is executed by a quartet of nimble and acrobatic actors. The cast of characters include Ginger (Juni Goh), Ginger's mother, Anya (Natalie Yeap), Fox/Miss Daisy (Alyssa Lie) and Weasel/Mr Jiggles (Ryan Ang).
Together, they danced, leaped, pirouetted around the colourful set, interacting with audience members at choice moments.
The vibrant set design of interspaced giant rotating gears framed by tree barks was the handiwork of Diego Pitarch. It was dressed up in rich filtered shades by lighting designer and 2019 National Arts Council Young Artist Award winner Gabriel Chan. The maroon, russet and moss green tones lent the show a late summery feel of the corn-harvesting season.
Teamwork and Communication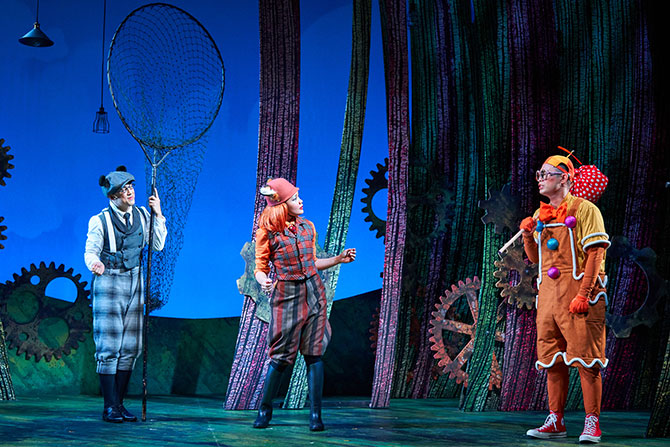 The message of parent-child communication and teamwork was at the show's heart. These came through as the characters joined forces to outfox the bushy-tailed villainess. It was also exemplified by the magic of the farm animals working as a team to get things done.
Ginger, the over-enthusiastic child, also learns about relationships and relating to others.
The musical featured clever moments such as references to nursery rhymes like Old MacDonald and the race between the tortoise and the hare.
Hungry for More
SRT The Little Company's The Gingerbread Man musical was deliciously warm-hearted family entertainment and certainly made us crave for some real gingerbread after the show. Thankfully, the theatre's snack bar conveniently had some homemade gingerbread men from the theatre's snack bar – a perfect ending to a gleeful time in the theatre.
The production plays at KC Arts Centre until 7 December 2019.
We've packed six weeks worth of activities in an easy-to-use holiday guide. Whether you want to find out what is going on at the...
Planning ahead for the November and December 2019 school holidays in Singapore? The year-end break is a wonderful opportunity for kids to try something...
FEATURED LISTINGS