Episode 7 of our "Let's Play" YouTube series on playgrounds in Singapore, heads to the east where we visit Pasir Ris Park Playground! With inclusive play areas and structures to climb, it's a great place to spend the weekends!
Watch the Pasir Ris Park Playground video above and read more about Pasir Ris Park Playground here.
Click here to subscribe to our YouTube channel and to see more great videos!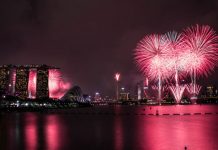 Have you got your New Year's Eve and New Year's Day 2020 plans all sorted? Another year (and decade) is soon gone, and we...
Go ice skating. Complete an inflatable obstacle course. Become a human claw and grab attractive prizes! Fun times await at Aperia Mall's Christmas Village,...
FEATURED LISTINGS