It's a great weekend for art enthusiasts, swim fans and pet lovers all! So hurry on and get out there to make the most of it.
Till 25 Aug
Esplanade Theatre Studio
---
Story continues below
No visit to Seoul with the family is complete without a visit to South Korea's biggest theme park: Everland! We had an awesome day...
West is best and we have the biggest bouncy playground to prove it. Bouncy Paradise which was last seen with its pop-up at PeopleUp@Pandan....
---
Help little ones explore themes of loneliness, friendship and love in this musical play about two best friends who whose lives change when another wants to join in and play. Learn more.
17 Aug, 9 am to 3 pm
HortPark
Bring your beloved furry friends along to the inaugural Pets' Day Out and enjoy a range of fun activities, learn care tips and maybe even bring home a new addition to your family at the animal adoption drive. Details.
15 to 17 Aug
OCBC Aquatic Centre
Be there to cheer on our local pool heroes as they take on champions from all around the world before the 2020 Olympics in Tokyo. More info.
17 to 18 Aug, 10:30 am to 5:30 pm
The Artground
Head down and have fun with a range of age-specific drop-in programmes, from storytelling and craft workshops to dance and movement sessions. Find out more.
17 Aug, 7:30 pm to 9 pm
Gateway Theatre
See this story from the classic Chinese novel come to life in a fresh, exotic way as Sun Wukong seeks to protect his master from the Jade Rabbit goblin. Learn more.
17 Aug, 10 am to 11 am
Jacob Ballas Children's Garden
Explore nature through drama and storytelling in this engaging workshop designed for kids from kindergarten to primary school. More info.
17 Aug, 2:30 pm to 4:15 pm
Keppel Centre for Art Education
Hear the famous tale of the king who turns everything he touches to gold, as told by founder-director of ACT 3 Theatrics, R Chandran. Details.
18 Aug, 5 pm to 7:30 pm
Singapore Botanic Gardens
Some of our finest jazz singers come together for this concert which aims to reach out to the masses and raise awareness for stray dogs. Find out more.
Sembawang Hot Spring Park has opened and it is even more inviting than ever. The new park, the first to open in 2020, retains...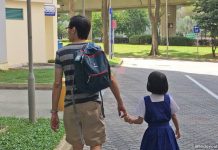 Kindergarten 2 to Primary 1. Primary 2 to Primary 3. Primary 4 to Primary 5. Children from local schools in Singapore experience many transitions...
FEATURED LISTINGS