Enjoy highly acclaimed theatre and live shows, sit back and relax to some great music in the park, get crafty or sporty on a family outing, or binge on yummy Taiwanese street food at a famous night market.
27 to 28 Apr, 10 am to 5 pm
SAFRA Tampines
---
Story continues below
Popular Bookstore is a household name and, from 6 to 15 December, the Popular BookFest 2019 Singapore at Suntec Convention Centre Level 4 is...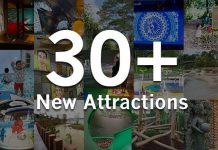 2019 has been a busy year. Can you believe that 33 new family-friendly places and attractions have opened in Singapore in just this year...
---
Find out what are the spiffy new features at the enhanced SAFRA Tampines! There are family sports challenges and activities, as well as free pop corn, candy floss and entry to the swimming pool. Details.
24 Apr to 26 May
Sands Theatre, Marina Bay Sands
One of the most successful, acclaimed musicals in history and Broadway's longest-running production. Packed with drama, heroics and iconic tunes, it's a show that's sure to enthrall and excite. Learn more.
27 Apr, 6 pm to 7:30 pm
Singapore Botanic Gardens
Celebrate the beauty of jazz music at this concert performed by the Jazz Association Singapore Youth Orchestra (JASSYO!). Find out more.
27 Apr to 5 May
Jurong Lake Gardens
Enjoy performances, demonstrations by KidsStop, storytelling sessions, a lightsabre-duelling showcase and lots of other family-friendly activities. More info.
27 Apr, 7 pm to 8:30 pm
Resorts World Theatre
Don't miss the show that has kept audiences spellbound and puzzled all over the world with its unique illusions and incredible mental magic setups. Details.
27 Apr, 6:30 pm to 10:30 pm
Jurong Lake Gardens
Rock out and sing along to your favourite English pop tunes, Mandapop and Cantopop. Look forward also to performances by young emerging talents. Find out more.
27 Apr, 1 pm to 5 pm
Asian Civilisations Museum
Want to extend your Easter fun? Head over for a hunt through the galleries and other Easter-themed activities. Learn more.
Till 28 Apr, 3 pm to 11 pm
The Grounds@Kranji
Binge out on Taiwan's wide variety of street eats as one of Taipei's most famous night markets comes to our shores for this local edition. More info.
Singapore's shores are teeming with wildlife we wouldn't usually notice. Getting to an intertidal zone during periods of low tide is the best way...
The Boys' Brigade Share-a-Gift (BBSG) 2019 project aims to spread the festive cheer and love to 43,276 beneficiaries this year. Beyond that simply the...
FEATURED LISTINGS