The Deepavali Festival Village 2018 is being held from 28 September to 6 November from 10 am to 10 pm. Held in conjunction with the Deepavali Street Light-up, this festive bazaar has stall which sell colourful, ornate decorations, festive treats and sweet delicacies.
We paid a visit to the Deepavali Festival Village 2018 along Campbell Lane, next to the Indian Heritage Centre. While the bazaar area isn't large, it does offer a variety of festive sights and sounds.
If you are at the Deepavali Festival Village, consider visiting the Indian Heritage Centre's latest exhibition Chetti Melaka of the Straits: Rediscovering Peranakan Indian Communities too. This exhibition tells the story of a lesser known Peranakan community, the Chetti Melaka.
Sights at the Deepavali Festival Village 2018
Here are some of the sights at the Deepavali Festival Village 2018.
More Stories on Deepavali: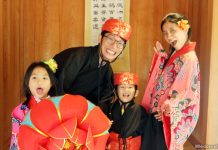 Making the trip to Okinawa with kids was the holiday I waited years for - literally. "Oh so drama", you may be thinking but I really...
We visited Playeum's new hands-on-exhibition I-Opener which runs from 1 June 2019 to 26 April 2020 (soft launch from 14 to 31 May 2019). Watch...
FEATURED LISTINGS