Tucked away in the South Wing of the newly opened Northpoint City is Sunshine Childhood Playland, one of hundreds of tenants in the newly revamped Yishun megamall.
For parents living in the vicinity of Yishun, Sembawang and Ang Mo Kio, Sunshine Childhood Playland is very much welcomed as there is now an indoor playground close to home for the wee ones to visit!
Role Play Stations
Sunshine Childhood Playland has a little bit of everything to keep your children pleasantly occupied. My daughter was ecstatic about the pretend play cubby houses which included a supermarket, a doctor's clinic, and of course, a kitchen.
The role play stations were well-stocked with toys and props, so my daughter had a blast for a long while: shopping one minute, listening to my heartbeat the next, and reheating food in the microwave after.
As these are little cubby houses, the space within is just about right for 2 toddlers; any more than that and there could be elbows flying!
Toddler-Friendly Climbing Frame
Ball pits are to children what flowers are to bees, aren't they? Well, Sunshine Childhood Playland's ball pit will certainly not disappoint the busiest of bees! The main climbing frame has slides that lead straight into the ball pit which is sizeable in itself.
---
Story continues below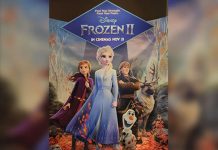 While Singapore enjoys tropical heat all year round, the winds of change have come with the full force of Frozen 2. The highly anticipated...
South Korea has always been one of the places that my wife and I wanted to visit; we are drawn to the fascinating food,...
---
Even with the space given, going in and out, up and down the climbing frame will give any toddler a decent workout. There even is a trampoline and swings in the playground.
Sensory Play Spaces
Sunshine Childhood Playland's sensory play area is filled with little plastic beads that are really quite lovely to the touch. If you have a baby who still mouths everything, it would be best to avoid this area though.
There are a lot of spades, shovels, and buckets just lying around for hours of filling and emptying, and a mini slide for good measure.
If LEGO is more his or her thing, there is a table full of the colourful bricks, right in front of a TV screen.
Indoor Playground with a Punch
Sunshine Childhood Playland is a cozy indoor playground with the works. If you're an Yishun resident or living within two to three MRT stops of Northpoint City – you should keep it in mind, and check out the new shopping centre while you're at it!
There isn't a cafe in Sunshine Childhood Playland but F&B options are a-plenty in Northpoint City.
For more information on Sunshine Childhood Playland, go here.
Sunshine Childhood Playland
Where: Northpoint City South Wing #02-181/182,930 Yishun Avenue 2, Singapore 769098
Go prehistoric at Singapore Zoo during the November-December 2019 school holidays at Singapore Zoo with a Mammoth Adventure Back in Time. Enter the Valley of...
Let it snow, let it snow, let it snow in Singapore 2019. Dreaming of a white Christmas in tropical Singapore? Well, you can have...
FEATURED LISTINGS