Yippee, the school holidays are officially here! While this means you don't have to wait till weekends to cut loose and have fun, you can bet that the coming Saturdays and Sundays will be blockbuster affairs loaded with more exciting activities than you can choose from.
18 Nov to 15 Dec
SAFRA Punggol
Want a variety of fun stuff to entertain the kids with? There's a range of one-off programmes available here for children from ages three to 12, from muffin-baking to a trampoline workout. Learn more.
Till 26 Nov
Singapore Botanic Gardens
This inaugural nature-themed festival is packed with fun and educational activities for kids of all ages, such as craft programmes, learning workshops, storytelling and investigative walks. More info.
Story continues below...
---
---
Story continues...
15 Nov to 3 Dec
MES Theatre, MediaCorp
Featuring an original story that sees Wednesday Addams, the family's little princess of darkness, fall in love with a normal young man, this funny, kooky production will have you in stitches. Find out more.
3 Nov to 31 Dec
Let 'em Play
A great balance of science and sports, the holiday programmes on offer at Let 'em Play feature hands-on robotics classes, various unique indoor climbing walls and a two-storey high obstacle course. Details.
17 to 19 Nov
SOTA Drama Theatre
See Little and Big Nutbrown Hare from the bestselling book leap off the page and onto the stage in this timeless, loveable tale as they compete to measure their love for each other. With puppets, live music and interactive play, it's a treat for the whole family. Learn more.
18 Nov, 11 am to 6 pm
Jalan Besar
Fathers and sons, here's your chance to unite behind a worthy cause and take a stand against family violence. Register as a team of 10 or as dad-and-kid pairs. Find out more.
18 to 25 Nov, 12 pm to 9 pm
SCAPE
Supporting and empowering those with chronic illnesses, this arts festival organised by Club Rainbow is an inclusive platform that showcases the creations and performances of its beneficiaries. Details.
Till 3 Dec
MasterCard Theatres at Marina Bay Sands
Brimming with some of the most memorable and well-known songs ever performed on a musical theatre stage, this iconic show is sure to delight and touch the hearts of all. More info.
18 Nov to 31 Dec
Singapore Zoo and River Safari
Have some super-sized fun at the zoo this school holidays, as 20 larger-than-life invertebrates make the place their home. Follow the trail to various activity stops, enjoy a puppetry performance and go home with some incredible snaps. Find out more.
18 Nov, 7:30 pm to 9 pm
Eco Garden, Singapore Botanic Gardens
Experience the magic of Canadian winter fun right here in the tropics! Bring your picnic mats, baskets and popcorn and head on down to enjoy this Canadian film classic under the stars. More info.
Classes which teach coding for kids are increasingly popular. With an eye on the future, coding programmes and courses designed for children provide an...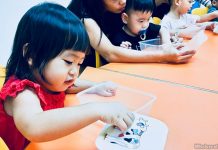 A former educator, I consider myself to be fairly open when it comes to "teaching" my child. I don't believe in hothousing at this...
FEATURED LISTINGS