Lower Peirce Reservoir is the second oldest reservoir in Singapore. Completed in 1912, the reservoir was commissioned to help meet Singapore's burgeoning water needs. Today, more than 100 years later, its waters and the lush greenery of Lower Peirce Reservoir Park continue to attract visitors seeking tranquillity and nature.
Originally named Kalang River Reservoir, its waters feed into Singapore's longest river, Kallang River. In 1922, it was renamed Peirce Reservoir in honour of Robert Peirce, the Municipal Engineer of Singapore who had proposed the construction of the reservoir.
Lower Peirce Reservoir is fairly accessible from Upper Thomson Road via Old Upper Thomson Road.
Yabby Catching at the Fishing Grounds
One activity that draws many families to Lower Peirce Reservoir on weekends is yabby catching.
---
Story continues below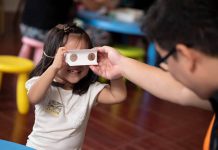 Scratching your head about what to do with kids during the school holidays? Want to head out as a family without breaking the bank?...
Parenting is a 24/7 job. You can't apply for leave. But for your sanity's sake, you're allowed to sneak out for a little break...
---
Lower Peirce Reservoir Park has a fishing ground with a shoreline of granite rocks. This makes it a popular spot for those who wish to try their luck catching yabbies, a type of crustacean.
To do so requires loads of patience, some skill and plenty of luck.
The wild yabbies at Lower Peirce Reservoir are elusive and hide away among the rocks.
Accordingly to a seasoned yabby-hunter, one technique to catch them is to lure them out from under the rocks with a piece of bread attached to a stick, place a fishing net behind them and "force" them backwards into the net.
Lower Peirce Boardwalk
Close to fishing grounds is an entrance to the Lower Peirce Boardwalk.
Officially known as the Lower Peirce Trail, the Lower Peirce Boardwalk winds through secondary forest and along the water's edge. This area was once a plantation and you will still see remnants of rubber trees and oil palms along the trail.
The Lower Peirce Boardwalk is an easy 900-metre walk. It has two other entrances besides the one at Lower Peirce Reservoir Park. The Jacaranda Entrance opens up to Old Upper Thomson Road and the Casuarina Entrance is an entry point close to the shops at Casuarina Road.
While on the Lower Peirce Boardwalk, keep a look out for animals such as monitor lizards, squirrels and even birds such as the White-bellies Fish Eagles soaring overhead. You may also encounter the ubiquitous long-tailed macaques.
Enjoying Lower Peirce Reservoir Park
Lower Peirce Reservoir Park is also a popular spot for picnics and outings. Its hilly green slopes provide magnificent views of the reservoir's waters.
A children's playground, slightly weather-beaten, serves as a play spot for young children.
Lower Peirce Reservoir Park's toilets are found close to the car park entrance.
The season of giving is here! One of the best (and easiest) ways to show your love and appreciation to loved ones is getting...
This year-end 2019 season, Frozen at Changi Airport is a treat for fans of Disney's latest movie. For those who are planning to make...
FEATURED LISTINGS