Get to meet with Poli and Amber at a Robocar Poli Meet & Greet at The Kidz Academy 2017.
Robocar Poli at The Kidz Academy 2017
From 9 to 11 June 2017, Poli, the blue-and-white police car that can transform into a robot, and Amber, the red-and-white ambulance will be at Suntec Convention Centre Halls 404 to 406 to meet their fans.
These two key characters from the animated TV series will be holding meet-and-greets at 1 pm and 7 pm over the three days of The Kidz Academy 2017.
Register Online for Robocar Poli Meet & Greet
Register online for a chance to meet Poli and Amber. Each successful registration entitles a family of four to a Robocar Poli meet & greet session on stage. Registration closes on 7 June 2017 at 12 pm. Terms and conditions apply.
Register at this link.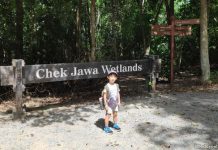 It was such a treat to be enjoying tranquility on a visit to Chek Jawa on Pulau Ubin on a boardwalk tour. Nature walks...
Meet Playpoint's Playground designer, Aryen Liaw. Her job involves coming up with creative concepts, researching playground equipment and creating fun and safe spaces to...
FEATURED LISTINGS