Get to meet with Poli and Amber at a Robocar Poli Meet & Greet at The Kidz Academy 2017.
Robocar Poli at The Kidz Academy 2017
From 9 to 11 June 2017, Poli, the blue-and-white police car that can transform into a robot, and Amber, the red-and-white ambulance will be at Suntec Convention Centre Halls 404 to 406 to meet their fans.
These two key characters from the animated TV series will be holding meet-and-greets at 1 pm and 7 pm over the three days of The Kidz Academy 2017.
Register Online for Robocar Poli Meet & Greet
Register online for a chance to meet Poli and Amber. Each successful registration entitles a family of four to a Robocar Poli meet & greet session on stage. Registration closes on 7 June 2017 at 12 pm. Terms and conditions apply.
Register at this link.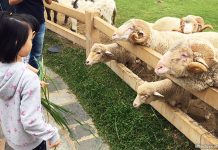 Sprinkled with quaint Italian-inspired villages, wineries with vineyards and flower fields against a mountainous backdrop, the region of Khao Yai near Bangkok, Thailand, offers...
Don Don Donki at City Square Mall, the brand's third store in Singapore and its largest outlet yet, opens on 11 January 2019. The new...
FEATURED LISTINGS