The Singapore Philatelic Museum, also known as the stamp museum to people who find its name a tongue twister, is a family-friendly museum along Coleman Street, a historic street in Singapore's Civic District.
It is housed in a former building of the Anglo-Chinese Primary School that was built in 1904. Before the building became the Singapore Philatelic Museum in 1995, it housed the Methodist Book Room, classrooms for Anglo-Chinese Primary School and the school library.
Today, instead of books and the din of boys trying to crowd into an air-conditioned bookshop, or squirreling Tin Tin books into hidden corners of the library so that others won't find them, the building is home to a collection of stamps and philatelic items.
Philately refers to the study of stamp and other postal-related items. This may seem like a quaint idea in a world where email outstrips snail mail but what makes it fascinating is that stamps provide a mini-portraiture of the different places, people and events from around the world.
Singapore Philatelic Museum's Permanent Exhibits
---
Story continues below
Can learning about Asian culture be an exciting experience for kids? You bet! From now till 29 December, little ones can take part in...
West is best and we have the biggest bouncy playground to prove it. Bouncy Paradise which was last seen with its pop-up at PeopleUp@Pandan....
---
Singapore Philatelic Museum consists of various rooms. It has both a permanent collection as well as regularly changing exhibitions.
On the ground floor, the permanent exhibits can be found in the Orange Room and the Green Room. These introduce the world of philately to visitors.
One floor above are the Room of Rarities and the Heritage Room.
The Room of Rarities focuses on Singapore's postal history. It includes artefacts dating as far back as the 1800s.
Next to the Room of Rarities is the Heritage Room which provides a condensed look  into the Singapore's cultural background.
Singapore Philatelic Museum's Changing Exhibitions
At the moment, visitors can also view the following changing exhibitions at the Singapore Philatelic Museum:
Past exhibitions have included:
150th anniversary of First Postage Stamp Issued in Singapore
Abode of Peace and the Lion City: A Brunei – Singapore Exhibition
The Singapore Journey: 50 Years Through Stamps
Collecting Magic: From Stamps to Wands aka Harry Potter Stamp Exhibition
Precious Eggs: Of Art, Beauty and Culture
A Little Magic Exhibition
Visit the Singapore Philatelic Museum website for more information.
Singapore Philatelic Museum
Address: 23-B Coleman Street, Singapore 179807
Opening Hours: Daily, 10 am to 7 pm
Admission: Adults – $8, Child (3 to 12 years old) – $6, Free admission for Singapore Citizens and Permanent Residents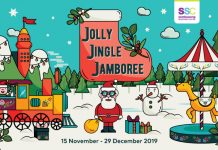 READ: Win Sesame Street Goodies in Our Latest Giveaway This yuletide season, Sembawang Shopping Centre is celebrating the festive spirit with a Jolly Jingle Jamboree...
West is best and we have the biggest bouncy playground to prove it. Bouncy Paradise which was last seen with its pop-up at PeopleUp@Pandan....
FEATURED LISTINGS