It's summer all year round here. What better way to celebrate the sun than with a bright and colourful tropical hat? Check out our paper plate tropical hat craft. It's easy to make, and super fun to wear!
What You'll Need for the Paper Plate Tropical Hat Craft:
A paper plate
Scissors
Penknife (only for adult's use)
Glue
Little Day Out's printable decorations – get them for free here.
Follow these simple steps:
1. Paint the paper plate in a nice colour. We used orange because it's a bright, cheerful colour that goes well with the printable decorations.
2. Draw four lines on the plate like how you would divide a pizza into eighths, and cut along the lines.
Tip: It may be easier for an adult to cut one line across with a penknife, before the child cuts the rest using a pair of scissors. 
3. Print out Little Day Out's specially designed decorations. Remember to print two copies so you'll have one decoration for each "spike" of the hat.
4. Cut out the decorations and glue them on the "spikes". Now you're ready to head out for some fun in the sun!
Click here to download this free printable from littledayoutshop.com now.
With Good Friday, 19 April, being a public holiday, it is a long Easter weekend 2019 in Singapore. For those who are wondering what...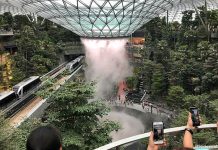 Is it an indoor forest, a foodie paradise or a shopping haven? The answer is that Jewel Changi Airport is all of these things and...
FEATURED LISTINGS