Yay for public holidays, school holidays and long weekends! Get into holiday glee with a bumper crop of seven three-day-long weekends in 2017. All thanks to New Year's Day, Chinese New Year, Good Friday, Labour Day, Hari Raya Puasa, Hari Raya Haji and Christmas Day falling on a Friday, Sunday or Monday!
Your long weekends could take place during New Year's Day (January), Chinese New Year (January), Good Friday (April), Labour Day (May), Hari Raya Puasa (June), Hari Raya Haji (September) and Christmas (December).
What's more, you can create super five-day long weekends, by taking two days of leave around Vesak Day (May), National Day (August) or Deepavali (October).
The kids get an extra day off on the day after National Day. So if you take leave on 10 August as well, you'll turn that August long weekend into an amazing six-day long weekend!
---
Story continues below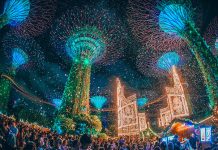 It's the most wonderful time of the year – most of us should agree. And honestly, who else does more jaw-dropping Christmas displays than...
We've packed six weeks worth of activities in an easy-to-use holiday guide. Whether you want to find out what is going on at the...
---
Teacher's Day falls on 31 August, Thursday, a day before the Hari Raya Haji. So that's another four-day long weekend there if you add a day's leave to join the teachers on their day off!
Take one more day's of leave on Monday, 3 July in celebration of Youth Day, and on Friday, 6 October for Children's Day. And you'll get yet another three-day long weekend to spend with your kids.
Singapore Public & School Holidays Calendar 2017
Download Little Day Out's Free 2017 Yearly e-Calendar (PDF) that marks out the public holidays and long weekends, as well as school holidays for primary and secondary schools in 2017!

1. Singapore Public Holidays 2017
New Year's Day Sunday, 1 January 2017*
Chinese New Year Saturday and Sunday, 28 & 29 January 2017*+
Good Friday Friday, 14 April 2017
Labour Day Monday, 1 May 2017
Vesak Day Wednesday, 10 May 2017
Hari Raya Puasa Sunday, 25 June 2017*
National Day Wednesday, 9 August 2017
Hari Raya Haji Friday, 1 September 2017
Deepavali Wednesday, 18 October 2017
Christmas Day Monday, 25 December 2017
* The following Mondays, 2 January 2017, 30 January and 26 June 2017, will be public holidays.
+ Tuesday, 31 January, will be a school holiday.
2. Scheduled Singapore School Holidays for 2017
The school year for 2017 for all MOE primary and secondary schools will start from Tuesday, 3 January and end on Friday, 17 November 2017.
Youth Day Sunday* 2 July 2017
Day after National Day Thursday, 10 August 2017
Teachers' Day Thursday 31 August 2017
Children's Day Friday** 6 October 2017
* The following Monday, 3 July 2017, will be a scheduled school holiday.
** For primary schools & primary sections of full schools only.
3. Singapore School Term Holidays 2017
After Term 1 Saturday 11 March to Sunday 19 March 2017
After Term 2 Saturday 27 May to Sunday 25 June 2017
After Term 3 Saturday 2 September to Sunday 10 September 2017
After Term 4 Saturday 18 November to Saturday 31 December 2017
Note: International school term holidays may differ. Please check with your child's school.
Sources: Singapore Public Holidays 2017 released by the Ministry of Manpower on 5 April 2016 and School Terms and Holidays for 2017 announced by the Ministry of Education on 5 September 2016.
Download Little Day Out's Free 2017 Yearly e-Calendar (PDF) that marks out the public holidays, school holidays and long weekends for 2017 here now!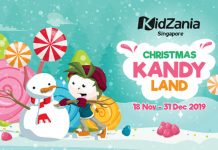 Reward your kids with the ultimate sweet treat and bring them to KidZania Singapore as it transforms into Christmas Kandy Land from 18 November...
Singapore's shores are teeming with wildlife we wouldn't usually notice. Getting to an intertidal zone during periods of low tide is the best way...
FEATURED LISTINGS