Running out of ways to entertain the kids at home? Get them out of the house and having fun at these great events happening this weekend!
Till 18 Dec, 10 am to 7 pm
Singapore Zoo and River Safari
---
Story continues below
We've packed six weeks worth of activities in an easy-to-use holiday guide. Whether you want to find out what is going on at the...
The season of giving is here! One of the best (and easiest) ways to show your love and appreciation to loved ones is getting...
---
Learn more about the dinosaurs, biodiversity and the importance of conservation at this themed event. With life-size animatronic dinosaur models and various dino-related weekend activities, the prehistoric times have never felt so now. Learn more. 
Till 4 Dec
National Gallery Singapore
Celebrate the National Gallery's first anniversary with fun activities and interactive art installations including a balloon forest, kids' films, art and craft, a festival food street and more. Details.
3 & 4 Dec, 2:30 pm & 4 pm
library@esplanade
Enjoy an interactive puppet show and puppet-making session that aims to teach kids the importance of gratitude through songs and stories. More info.
2 to 11 Dec
Suntec Singapore Convention and Exhibition Centre
This mega book-and-stationery fair returns for its 10th and largest edition yet. Covering a massive range of books, educational aids, IT gadgets, school supplies and even titbits and imported snacks, it's a wonderful opportunity to stock up on all kinds of reading and learning material. Find out more.
3 Dec, 11 am to 6 pm
Asian Civilisations Museum
This free storytelling festival that has been taking place at museums and libraries all over the island for the past two months ends off with a bang – an all-day storytelling session at the Asian Civilisations Museum. Suitable for all ages and guaranteed to be lots of fun. More info.
2 to 4 Dec
MasterCard Theatres at Marina Bay Sands
Get your tickets to this theatrical extravaganza quick, and catch Hi-5 as they put their special twist on familiar fairytales. Funny, fast-paced and full of song and dance, this is a show to delight young and old. Learn more. 
Till 17 Dec
Drama Centre, National Library Building
The beloved Chinese fantasy classic gets an injection of local flavour, as orphan boy Ah Tang finds himself transported to a strange new land where he befriends Wukong, Pigsy and Sandy. A cheeky musical with a touching message about home and belonging. Details.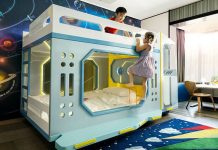 Celebrate the holiday season with a year-end 2019 staycation amidst a lush landscape and specially-themed suites, or stay in the heart of Singapore's first...
It's that sparkly time of the year again and the Christmas Light Up at Orchard Road 2019 is dazzling one of Singapore's most well-known...
FEATURED LISTINGS