Didn't manage to cover everything you wanted at the Singapore Night Festival last weekend? Couldn't squeeze in all the quality productions being staged? Well good news: Night Festival activities and the glut of quality theatre performances continues this weekend, so hurry on out the door to catch these exciting events taking place
Till 11 Sept
Alliance Francaise Theatre
---
Story continues below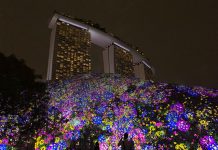 Future Together at Gardens by the Bay, a digital art exhibition, caps off the Singapore Bicentennial commemorations with interactive installations that encapsulate the hope...
This year-end 2019 season, Frozen at Changi Airport is a treat for fans of Disney's latest movie. For those who are planning to make...
---
I Theatre's brand new production for young ones is a highly visual and interactive treat. Exploring themes of family and home, the show uses minimal dialogue but loads of wonderful tunes and visuals to engage young audiences. Find out more, or go behind-the-scenes with us here.
Till 4 Sept
Ulu Pandan Community Club Theatrette
Rediscover the classic Grimms fairytale with this dark and enchanting retelling by the Players Theatre. A cautionary tale of not judging a candy by its wrapper, its delicious visuals and scary-fun storyline will draw you deep down the forest path. Learn more.
Till 28 Aug
SAM at 8Q
If you have yet to catch this wonderful children's art exhibition, this weekend is your last chance. Featuring tactile and interactive works that encourage kids to explore and play, it aims to get visitors thinking about human impact on nature and how we can save the earth.
24 Aug to 11 Sept
Grand Theatre, Marina Bay Sands
One of the best loved family musicals of all time gets a new spin in this update of the original Tony Award-winning classic. An uplifting story of a spirited young orphan's rags-to-riches journey, its iconic tunes and just as iconic heroine will melt your heart. More info.
Till 27 Aug
Bras Basah and Bugis precincts
This is the closing weekend of the now-renowned annual night festival. There are plenty of gorgeous and innovative performances and art installations lined up, but a must-see has to be the closing act Invasion, a awe-inspiring moving street spectacle that brings participants into a mythical world of magical creatures. Details.
Till 16 Sept
KC Arts Centre
This original adaptation of the classic tale is a funny, raucuous and music-filled ride designed to teach kids about the importance of hard work and perseverance. Learn more or read our review here.
Till 28 Aug
Esplanade
A mynah who's scared of heights has to overcome his fears and embark on a brave mission when his best friend gets captured by the big black crow. Merging theatre, music and puppetry, this delightful play for kids aged two to four is also presented in a sensory-friendly format on selected dates. Find out more.
27 Aug, 7 pm to 11:30 pm
Science Centre Singapore
This Saturday, the planets Venus and Jupiter are going to appear so close to each other that they'll virtually look like one big bright star. To mark this rare event (the next conjunction is not due for nearly another 50 years), the Science Centre is holding a night-time picnic and viewing session rolled into one. Details.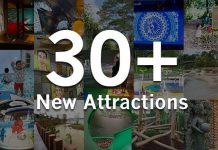 2019 has been a busy year. Can you believe that 33 new family-friendly places and attractions have opened in Singapore in just this year...
West is best and we have the biggest bouncy playground to prove it. Bouncy Paradise which was last seen with its pop-up at PeopleUp@Pandan....
FEATURED LISTINGS