With a quiet lake in the middle of the heartland, Punggol Park offers a simple place to rest your feet, fill your tummy, and clear your mind.
With lush trees etched against waterfront views, this 16-ha park in Hougang is a tranquil spot for the family enjoy time together, from cycling to waterfront dining.
Click here to see the park map.
Punggol Park Lake
It's like an oasis in the middle of a jungle of concrete. You could laze by Punggol Park's lake all day, if Singapore wasn't so hot.
---
Story continues below
The Boys' Brigade Share-a-Gift (BBSG) 2019 project aims to spread the festive cheer and love to 43,276 beneficiaries this year. Beyond that simply the...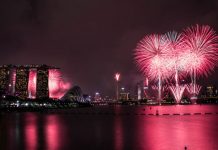 Have you got your New Year's Eve and New Year's Day 2020 plans all sorted? Another year (and decade) is soon gone, and we...
---
About the size of six football fields, the 5-ha lake defines Punggol Park.
There are two water promenades with benches to enjoy the view, and anglers are welcome to do a spot of fishing here, in the shade of the lush trees.
But the fishing usually happens from the evening onwards.
Wild Oats
Wild Oats bistro cafe has a prime spot right by the lake.
This cafe serves up "Mod Sin" food and drink, which means Modern Singaporean – traditional local dishes with a twist.
But the quality of the food here pales in comparison to sister restaurants Wild Rocket and Relish, also by Chef Willin Low.
While the food here is nothing to write home about, the lake view at the alfresco dining area makes the visit worthwile.
Lots of hearty grub, desserts (try the chendol) and drinks for the family; and craft beers, whiskies, and cocktails for the adults.
But take note that the bistro opens only from 4pm onwards, till 12am. If you arrive any earlier, you'll be disappointed.
Cycling
You can rent bicycles at Punggol Park from a kiosk located at a corner of the park, close to Sungei Pinang.
Some of the bikes are equipped with baby seats, so even those with little ones can enjoy a bit of a spin.
Located right beside Sungei Pinang, Punggol Park has a section of Serangoon Park Connector running through it.
Family Fun
We spotted an inline skating class with zooming kids in the park by skate shop/school InlineX.
The Punggol Park playground with a set of swings is located in the middle of the park. Something for the little ones.
A foot reflexology footpath awaits aching feet. Something for the elderly.
Benches, dotted all over Punggol Park – something for tired parents! A vending machine with drinks stands next to the public toilets.
Two large pavilions with many benches are a communal area for large groups, situated in the middle of Punggol Park.
Things To See
Can you find this?
A sculpture sign beckons you to search for Harmony Tower.
And here it is, some distance away: A clock tower with a working clock.
See if you can spot these birds by the lake, as you sit in the shade of the trees. This helpful bird guide can teach the kids about what birds to look out for, and their characteristics.
We reckon that this bench is the best spot to take in the view of the lake. It's situated next to Wild Oats.
Note: The BBQ pits are closed.
Punggol Park

Location: Junction of Hougang Avenue 8 and 10
Nearest MRT station: Buangkok MRT or Hougang MRT
In gift giving, it is the thought that counts. So, how about making your retail dollar do double duty in spreading the love by...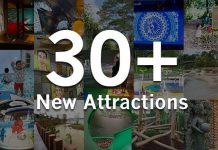 2019 has been a busy year. Can you believe that 33 new family-friendly places and attractions have opened in Singapore in just this year...
FEATURED LISTINGS