Hooray, it's a long weekend, which means more time for fun and play! We've shortlisted some of the best ways to enjoy this little extra break while spending quality time together as a family.
26 April to 15 May
Drama Centre Theatre, National Library Building
After a five-year break, I Theatre is bringing back one of its best-loved musical productions. Boasting new characters, theatre techniques and puppet designs, this story of the Rainbow Fish holds valuable lessons about pride and selfishness for all ages, while serving up lots of songs and laughs. Find out more, or read our behind-the-scenes interview with the crew.
Till 30 Oct, 10 am to 6 pm daily except Mondays
Playeum, The Children's Centre for Creativity
Let your kids discover, explore and interact with nature in their own way at this latest themed exhibition by Playeum. With several hands-on installations, there's plenty here to keep curious young minds engaged and enthralled. Learn more in our detailed write-up.
29 April to 15 May
Story continues below...
---
---
Story continues...
Various locations
Discover the many stories of our shared history, spaces and way of life as the HeritageFest kicks off this Friday, 29 April. There are loads of activities and events lined up, from guided tours at numerous heritage locations to traditional arts performances and workshops. For more information on what's taking place, click here.
30 April, from 10:30 am
National Museum of Singapore
Let the National Museum's storytellers bring you and your family on an exciting tour as they tell of the many colourful stories behind the ancient artefacts from the Treasures of the World exhibition. The theme for this weekend's tales: Masks & Faces. Details here.
1 May, 10 am to 4 pm
Istana
Learn more about the diverse range of flora and fauna on the Istana grounds this Labour Day by going on one of the hourly nature tours being conducted there. Registration on-site and on a first-come-first-serve basis.
Till 30 April
KC Arts Centre
Don't miss the last chance to catch this spectacular and original multi-media production. Telling the story of Hanuman and his friends as they right the wrongs in the world, it's a visual and musical feastthat will dazzle your senses.
Till 22 May
Flower Dome, Gardens by the Bay
These beautiful blooms are back for another showing at Gardens by the Bay, this time set against a Persian-style backdrop. You can learn more about their origins and cultural significance on the free guided tours being conducted at 11 am and 3 pm daily. More info.
Open seven days a week
Sentosa Palawan Kidz City
Check out this latest 'in' place for kids, where they can let their imagination run free as they role-play at various occupations. Find out more in our detailed write-up, or read our handy list of things you should know before your visit.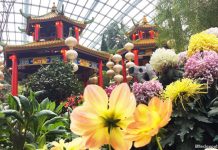 The rooftops of Chinese pavilions rise up above the foliage, beckoning visitors gazing at the Flower Field below to experience Dahlia Dreams at Gardens by the...
Don Don Donki at City Square Mall, the brand's third store in Singapore and its largest outlet yet, opens on 11 January 2019. The new...
FEATURED LISTINGS