Hooray for the weekend! The Easter holidays might be over, but there's no reason why you can't continue to pack in the activities and fun. Here, we highlight some of the events worth checking out.
1 to 30 April
KC Arts Centre
SRT's The Little Company presents this original theatre production packed with extraordinary visuals. Telling the story of the monkey god Hanuman as he fights monsters and evil kings, it's a unique multi-sensory experience that kids and adults can both enjoy.
29 Mar to 23 April
MasterCard Theatres at Marina Bay Sands
Don't miss this visually stunning performance that's comedy, theatre, rock concert and dance party all rolled into one exhilarating show. With new music, stories and cutting edge technology – plus 30 litres of paint and 55 mashed bananas – it's a spectacle that will blow you away.
3 April, 5 pm to 6:15 pm
Story continues below...
---
---
Story continues...
Esplanade Concert Hall
Get set for a magical afternoon filled with music, storytelling and gorgeous visuals, in this concert by the Singapore Philharmonic Orchestra. Highlights include a guest performance by the SSO's principal tuba player, a retelling of the Three Billy Goats Gruff tale, and a segment by a 12-year old pipa prodigy.
2 April, 8:30 am to 4 pm
Punggol Reservoir (next to Anchorvale Community Club)
Make it a family day of water fun and adventure! On top of carnival activities, you can also look forward to kayak and abseil tryouts, a reservoir discovery expedition and heart-thumping dragon-boat races.
2 April, 1 pm to 5 pm
Asian Civilisations Museum
Learn a little more about Thai culture and usher in the traditional Thai New Year of Songkran at the Asian Civilisations Museum. Activities include shadow puppet-making and a dance lesson.
Till 14 May, from 10:30 am in one-hour sessions
National Museum of Singapore
Join the museum's storytellers as they take you on a tour among the ancient artefacts of the British Museum. The intriguing and colourful tales will enthrall kids and grown-ups alike. Recommended for families with children from ages six to 12.
2 April, 6 pm to 7 pm
Singapore Botanic Gardens
Relax and enjoy an evening outdoors to the music of the Singapore Chinese Orchestra, as they bring you a fusion of east and west by performing western classical and jazz compositions such as Bartok'sRomanian Folk Dances and Gershwin's Strike Up the Band.
Till 17 April, 10 am to 7 pm
S.E.A Aquarium
Easter is over, but you can still enjoy the aquarium's Easter-themed activities. Go on an Eggtopus trail to hunt for 12 hidden eggs, take in the SEAcret Garden filled with multi-hued decorations and fishes or have fun with some art and craft at the Eggtivity Area.
Usher in Chinese New Year 2019 at HarbourFront Centre with family-friendly activities, including LIVE character performances, meet-and-greets, colouring and interactive walls, craft activities and...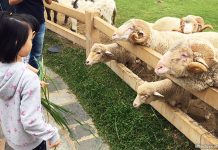 Sprinkled with quaint Italian-inspired villages, wineries with vineyards and flower fields against a mountainous backdrop, the region of Khao Yai near Bangkok, Thailand, offers...
FEATURED LISTINGS