In terms of unique dining experiences, Stewords Riverboat is about as unique as they get in Singapore.
Docked off the Marina South Pier, this Mississippi-style riverboat comes decked out with dual smoke stacks and a bright, red paddle wheel at the rear. The three-storey boat is now home to a Tex-Mex restaurant, Santa Fe Tex-Mex Grill, and open in the evenings from Tuesdays to Sundays.
Life for this non-motorised boat started off in the nineties at Sentosa when it used to house a (now-defunct-in-Singapore) A&W outlet. It was relocated to its present location by its present owners who run the onboard restaurant, Santa Fe Tex-Mex Grill.
Stepping Aboard the Stewords Riverboat
As you make your way towards the Steword Riverboat, the rise and fall of the pier reminds you that this is literally a floating restaurant. Boarding the Riverboat, it may take a while for guests to find their sea-legs as the boat rocks a bit, particularly in the wake of harbourcraft moving in and out of the pier. For some, this adds to the uniqueness of the experience but others may experience some motion sickness. Kids (at least most of them) seem to love the challenge of adjusting to the motion of the boat.
Santa Fe Tex-Mex Grill's décor feels both casual and homely. With a choice of window side booths or standalone tables, the restaurant is spacious enough to accommodate families and yet intimate enough for smaller groups.
The restaurant was among the first to introduce Tex-Mex food to Singapore back in 1999. Today, on the menu are Americanised Mexican dishes including chimichangas, nachos, quesadillas, BBQ ribs, grilled chicken and their signature fajitas. Expect to spend around $20 plus on mains, in the 'teens for wraps and rolls and appetizers start from $7.90 onwards.
Santa Fe's children's menu includes a battered fish, spaghetti with marina sauce and a double sausage hot dog. Our favourite was the Chicken Crunch, chicken strips coated with crispy batter. Absolutely yummy and much better than the typical chicken nuggets found on many other kids' menus.
All Hands on Deck
After placing the orders, it is a good time to explore the upper decks while waiting for the food to arrive.
A set of stair-ladders take you up to the second floor where there is a private function hall. The third floor above has an open weather deck that provides dazzling views of Singapore's skyline, especially once the sun goes down and the city lights come up.
Stewords Riverboat and Santa Fe Tex-Mex Grill provide a unique "off-shore" escape from usual dining haunts around Singapore. It makes a wonderful adventure for the kids and a great evening out with family and friends.
As a bonus Little Day Out tip, if the kids still have excess energy after dinner, after disembarking the Stewords Riverboat, take a lift to the rooftop of the Marina South Pier building. Here, a small children's playground and the purplish mood lighting make this an ideal place for the adults to chill out against the habour lights while kids entertain themselves in the cool of the evening.
Have a great Little Day Out!
Stewords Riverboat
Address: 31 Marina Coastal Drive
Berth 1, Marina South Pier
, Singapore 018988
Website: www.riverboat.com.sg
Tel: 6278 5775
Email: enquiry@riverboat.com.sg
Operating Hours: Tuesdays-Sundays 6-10pm 
(Closed on Mondays)
Related Articles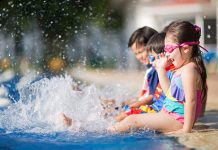 Even if you have no intention of nurturing your child to become the next Joseph Schooling, swimming is a life skill that is very...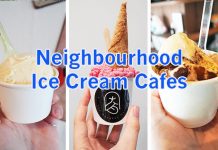 There's an undeniable charm about neighbourhood cafes located under HDB blocks. Sometimes instead of the glitz and glam of  an "instagramable café", we might...
FEATURED LISTINGS