Ji Gu Pa is a childhood hand-game we play in Singapore. On the surface, it looks similar to scissors-paper-stone and is a two-player game, but both players use both hands.
While scissors-paper-stone is based on each of the game elements defeating another (i.e. scissors beats paper, paper beats stone, stone beats scissors), Ji Gu Pa is a game of reactions where each player's objective is to catch the other player doing the same hand symbols as theirs.
Ji Gu Pa Hand Symbols
"Ji" refers to the scissors hand symbol; "Gu" refers to the stone hand symbol; "Pa" refers to the paper hand symbol.
How to Play Ji Gu Pa
The game starts with both players saying "Ji Gu Pa!" and opening both hands with their starting hand symbols.
The first player then calls out their next hand symbol combination accompanied with the appropriate hand symbols (e.g. "Gu Pa!"). At the same time, the other player can choose to change his hand symbols to avoid having the same ones as his opponent. If any of the second player's hand symbols are the same as his opponent's, that hand is out of the game.
Players take turns fielding different hand combinations against each other until one player loses by having both hands knocked out of the game.
Ji Gu Pa is often characterised by loud shouts of the different hand combinations (e.g. "Ji Gu!", "Pa Pa!") as players try to "shock" their opponents into making losing hand symbols.
Anyone growing up in Singapore would remember this fun game being played during recess time, or before and after school while waiting for the school bus. In today's context, iPad games seem to win the the day.
Story continues below...
---
---
Story continues...
So how about bringing back some good old-fashioned fun that is free for your family and kids? It makes a great bonding session and teaches them to think quickly and be spontaneous! "Ji Gu Pa"!
Japanese organising consultant and author, Marie Kondo's latest venture Tidying Up with Marie Kondo premiered on Netflix on 1 January 2019, and it has sparked...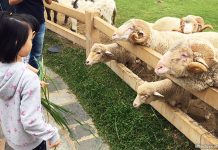 Sprinkled with quaint Italian-inspired villages, wineries with vineyards and flower fields against a mountainous backdrop, the region of Khao Yai near Bangkok, Thailand, offers...
FEATURED LISTINGS