Singapore Zoo turned 40 on 27 June 2013 and its 40th birthday celebrations will continue all year round. For starters, it will be extending a 40% discount on admission for the entire month of July for all Singaporeans and permanent residents.
With the 40% discount, tickets to Singapore Zoo will cost $13.20 for adults and $8.40 for kids, instead of the usual price of $22 and $14 respectively.
To enjoy this offer, simply click here to print the coupon for redemption and for more details.
In addition, visitors can take part in the 40 Wild Years Trail, and redeem retail and F&B offers upon completion. The trail runs from 27 June to 31 July 2013 and consists of five questions that will take visitors to some iconic sites within Singapore Zoo. Activity sheets will be available at all Singapore Zoo ticket counters.
For more information and the latest updates on Singapore Zoo's 40th anniversary celebrations, visit www.zoo40.zoo.com.sg, or www.facebook.com/wrs.sg.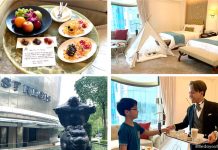 Right from the moment we arrived at The St. Regis Singapore, we were transported to a realm of old-world charm and graceful elegance. Beautiful...
With the gloom of the COVID-19 news, Mr Brown, Singapore's Blogfather, and Mr Benjamin "Miyagi" Lee have brought some levity to the situation with...
FEATURED LISTINGS