If you have never brought your kids to the museums, now is a great time to do so as entry into eight National Heritage Board museums is free for Singaporeans and PRs in the month of August 2012.
Wondering what there is to do at the museums with the kids? Get an overview of these eight museums right here in Singapore.
Also, keep an eye out for our special Kids-Eye View Guide to the Museums which will be available to our Little Day Out Friends at our Fun Zone.
Happy Museum Hunting!
This museum along Coleman Street pays homage to the humble postal stamp. It consists of two floors of exhibits, many of which are accessible to younger kids. Hands-on exhibits allow kids to pound away on drums, touch-and-feel different spices and explore Singapore's heritage.
The Peranakans have a unique culture resulting from the inter-racial marriages along the Straits of Malacca. Explore their food, customs and stories at this museum. Be sure to pick up a Family Treasure card and go on a Peranakan adventure to collect stamps of Peranakan symbols at eight embossing stations found throughout the museum. Find your way to the writer's work desk at Emily and I: Interactive Experience and design your own theatre stage using rubber stamps of props and costumes featured in Emily of Emerald Hill.
The National Museum of Singapore consists of two parts – the History Gallery and the Living Galleries. The History Gallery takes visitors on a journey through Singapore's history from either an events or personal viewpoint, while the Living Galleries take a look into the everyday with exhibits on film and entertainment, food and photographs.
Since the exhibits do not have any descriptive text next to them at the History Gallery, pick up an audio guide to get the most out of the gallery. This is probably best for older kids, 9 and above. Those with younger kids may want to head to the special exhibition – "45-65" – held this August. Located at the Stamford Gallery near the front of the museum, you will find a kid's corner with colouring and art activities.
Found near the spot where Raffles landed in 1819, the Asian Civilisations Museum presents the backstory of the different races that came to settle in Singapore. Explore the roots of the first immigrants to Singapore, coming from Central Asia, China and India. Among the exhibits kids can explore include a Mughal Palace, a Normad's home and a Torajan house with a boat-shaped roof and buffalo horns.
Story continues below...
---
---
Story continues...
Sun Yat Sen is widely regarded as the father of modern China. This villa, with paintings, sculptures and artifacts that memorialise the 1911 Chinese Revolution, remembers his ties with Singapore and the impact it had on the Chinese here. For kids, be sure to pick up an Activity Booklet that will help them explore the galleries in a fun way. Catch the free tours conducted in English at 11.00 am on Tuesdays and Thursdays, 2.00 pm on Wednesdays and Fridays, and 3.00 pm on Saturdays and Sundays. Join in the lineup of talks, workshops, performances and screening of old movies at Wan Qing CultureFest 2012 taking place daily till 26 August 2012. Of particular interest to kids would be the Kids Storytelling by The Theatre Practice for 5 to 6 year olds coming up at 2.00 pm on Sunday, 26 August 2012.
Home to a large collection of South East Asia art, this museum is more suited to older kids, 8 years and onwards. Head to the two Learning Galleries on the second floor where the descriptions of the art are written with kids in mind and designed to stimulate discussion.
This historic building is where the British surrendered Singapore to the Japanese in February 1942. It now houses an exhibition that traces the events leading up the fall of Singapore and takes look at life in Singapore under Japanese rule. It comes with a PG rating for some of the grim images found there and is better suited for older kids from 9 or 10 years old onwards.
This museum recollects an important part of Singapore's history from the perspective of the Malay Regiment that took a stand along the Pasir Panjang ridge. It recounts the heroism of the soldiers and pays tribute to their sacrifice in the defence of Singapore. With dioramas and an immersive theatre presentation, take an introspective look at an important part of Singapore's history. Of interest to boys would be the room on the second floor with a collection of guns and munitions, complete with accompanying trivia questions.
Little Day Out's Handy NHB Museums Map

View NHB Museums Little Day Out in a larger map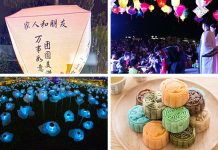 As the moon reaches its roundest and brightest, it's time for mooncakes, lanterns and family get-togethers. This year, the Mid-Autumn Festival falls within the...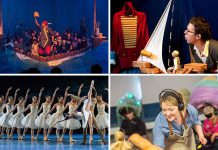 From 4 to 6 October 2019, spend a wonderful Children's Day weekend with Octoburst! – A Children's Festival 2019 at Esplanade – Theatres on the...
FEATURED LISTINGS