2013 Update: Read 48 Ways to Celebrate Singapore's National Day as a Family.
Wondering what to do with the kids this National Day 2012?
We thought we'd share five great National Day-related ideas of what you can do to celebrate Singapore's 47th birthday this National Day and foster a deeper appreciation of our national heritage at the same time.
The home of the President of Singapore is only opened to the public five times a year. This year, the Istana Open House for National Day is on 5 August – the Sunday before National Day. At the Istana, you can wander through the grounds, view little themed gardens, visit the Gun Terrace and tour the Istana main building. Take a leisurely walk and enjoy performances put up by bands, exhibits of animals from the Singapore Zoo and even take part in an On-The-Spot Art Competition for children aged 3 to 12.
The Arts and Heritage Village activities presented by the Singapore Art Museum and the National Heritage Board start from 9.00 am. You can enter the Istana via the main gate at Orchard Road. Admission is free for Singaporeans and non-citizens pay a nominal fee of $1. Entry into the Istana main building is ticketed at $2 each, but will be free for all On-The-Spot Competition participants.
Does anyone remember the small dioramas that used to be found in the old National Museum of Singapore? Those may be long gone but at the Images of Singapore at Sentosa, you can find life-sized dioramas which present a visual history of Singapore from the time it was a fishing village to the modern day. This is a more visual way to present Singapore's history to the kids and as an added bonus, there is also an exhibition on old Singapore and local traditions.
Story continues below...
---
---
Story continues...
Join in the National Day festivities at Singapore's favourite arts venue, the Esplanade. From 8 to 12 August, the Esplanade will be hosting the "National Day – Making Memories Together" festival. This includes activities such as Kampung Games and Face Painting at the Concourse, performances by bands, including an Angklung ensemble, as well as magic shows. Get in on the fun at the Esplanade over the National Day weekend.
Board a boat and coast down the river where the Singapore story began. As you meander down the Singapore River, point out to the kids the sights of the old godowns and steps at Boat Quay where trade and commerce once bustled, Anderson Bridge where horse and ox carts once plied, and the latest additional to the river, the new Marina Bay area.
Want to get a glimpse into Singapore's future? Do so at the Singapore City Gallery located at the URA Centre. This free gallery makes extensive use of multimedia to present the work of city planners. You will also find a scale model of Singapore and exhibits on the steps being taken to preserve Singapore's past. While the Singapore City Gallery is closed on National Day itself, it is open on Friday and Saturday, 10 and 11 August for those looking for an activity with a difference over the long weekend.
We did say we'd share five great ideas, but we can't help but add one more…or rather, eight more! The good news is that all Singaporeans and Permanent Residents will enjoy free entry to National Heritage Board Museums and institutions from 1 to 31 August 2012. Don't miss the exhibitions atAsian Civilisations Museum, National Museum of Singapore, Peranakan Museum, Singapore Art Museum, Singapore Philatelic Museum, Memories at Old Ford Factory, Reflections at Bukit Chandu and Sun Yat Sen Nanyang Memorial Hall.
Wherever you decide to go, don't forget to dress up in the signature red and white this National Day season and take that great family photo together to commemorate this special occasion!
Let us know any other ideas that you may have for a Little Day Out this National Day. Happy birthday Singapore!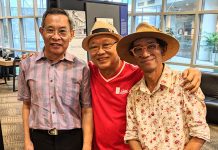 What happens when Uncles Love Monuments? They go sketching, of course. And now, the artworks of Francis Theo, Steven Seow and Tony Chua are on...
Big Wooden Horse's stage adaptation of award-winning author Oliver Jeffers' The Way Back Home makes its way to Singapore from 27 to 29 September...
FEATURED LISTINGS