This large park is popular for its massive Adventure Play Area which caters to children as young as toddlers. It is also a popular location for kite-flying, soccer and cycling.
Useful Information
Address:
 71 W Coast Hwy, Singapore 126844
Contact: +1800-471 7300
Visit Website
Get your own copy of the "Mystery of the Missing Goblet" from Little Day Out Shop now! Find out more about Little Day Out's treasure hunt game for West Coast Park, The Mystery of the Missing Goblet. Available at the Little Day Out Shop.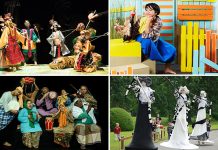 Arts in Your Neighbourhood (AYN) - an initiative by the National Arts Council (NAC) - returns for its 11th edition this November with close...
Wondering what to do with the kids during the November school holidays? Banish boredom and dive into festive fun at SAFRA Punggol's Oasis Paradise...

FEATURED LISTINGS