Ascend the Tiger Sky Tower to catch a 360 degree view of Singapore and the Southern Islands. Lift off from Sentosa's Imbiah Lookout.
Useful Information
Address:
41 Imbiah Road, Sentosa Island, Singapore 099707
Contact: +65 6259 9288
Visit Website
10, 9, 8,… 3, 2, 1! Hands in the air! Experience the exhilaration of a fun cooking competition – together as a family – at...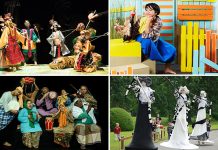 Arts in Your Neighbourhood (AYN) - an initiative by the National Arts Council (NAC) - returns for its 11th edition this November with close...

FEATURED LISTINGS